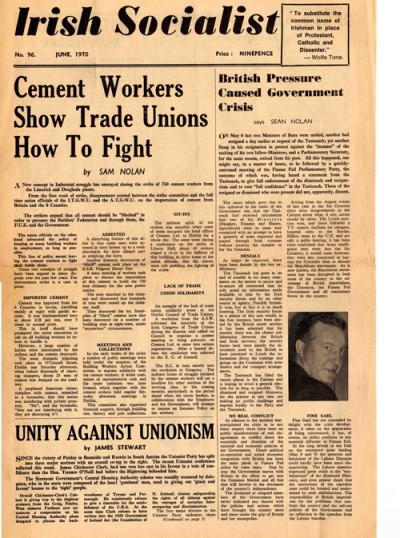 Date:
June 1970
Organisation:

Communist Party of Ireland

Publication:

Irish Socialist

Issue:
Number

96

Eileen Browne

,

George Jeffares

,

John McDonnell

,

John Montgomery

,

Sam Nolan

,

Seán Nolan

,

Michael O'Riordan

,

G. Palmer

,

John Riddy

,

Jim Savage

,

James Stewart

Collection:
Music in the Irish Left Archive
View:
View Document
Discuss:
Comments on this document
Subjects:
 
Please note:  The Irish Left Archive is provided as a non-commercial historical resource, open to all, and has reproduced this document as an accessible digital reference. Copyright remains with its original authors. If used on other sites, we would appreciate a link back and reference to The Irish Left Archive, in addition to the original creators. For re-publication, commercial, or other uses, please contact the original owners. If documents provided to The Irish Left Archive have been created for or added to other online archives, please inform us so sources can be credited.
Commentary From The Cedar Lounge Revolution
29th June 2009
A further addition to the Archive which underlines the convergence of interests between the Communist Party of Ireland and Sinn Féin in its Official incarnation during the late 1960s and early 1970s.
This is explicit in an article which strongly criticises the 'official' Labour movement and Conor Cruise O'Brien for an unwillingness to join cross party alliances against Paisleyism and also take Eamonn McCann and Bernadette Devlin to task for their unwillingness to 'cooperate with forces who aren't socialist'. And naturally the situation in the North remains paramount as a specific concern.
Other notable aspects include an article by "The unmarried mother" by "one of them" and "Strong Girl Wanted for Light Work" which demonstrate how much, and how little, has changed in the last 39 years or so.
In terms of international outlook one will see pieces on Cambodia but the focus is very much on Ireland, from a piece on "How U.S. Big Business is taking over Ireland" by Michael O'Riordan to "These are the Monopolies Who Control Cement Ltd."
All this and Lenin on the National Question.
More from Irish Socialist
Irish Socialist in the archive
---