The Coffee Circle Papers: Paper 3 - Beyond the Parish Pump: Internationalism Today
Papers and responses from the series of political forums organised during 1998 by Democratic Left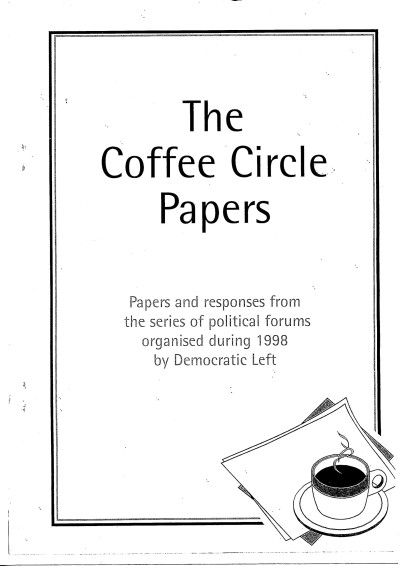 Please note:  The Irish Left Archive is provided as a non-commercial historical resource, open to all, and has reproduced this document as an accessible digital reference. Copyright remains with its original authors. If used on other sites, we would appreciate a link back and reference to The Irish Left Archive, in addition to the original creators. For re-publication, commercial, or other uses, please contact the original owners. If documents provided to The Irish Left Archive have been created for or added to other online archives, please inform us so sources can be credited.
Commentary From The Cedar Lounge Revolution
16th December 2019
Many thanks to Catherine Murphy TD for donating this document to the Left Archive. The document has been posted as the specific chapters which can be found here. As noted previously:
This document [published on foot of a series of meetings] is unusual in respect of the Irish left in that it sought to challenge fairly directly the assumptions held by a political formation. That formation, Democratic Left, less than a decade old had recently left government after Fianna Fáil had won the 1997 General Election. It had also shed two seats from its complement of six TDs.
Twenty pages long, this chapter engages with internationalism. It covers 'Main Issues', those being Socialism and Internationalism, Thinking Globally, Socialism and the European Union, What role for the UN? What force for democratic Socialists.
A Paper by Philip O'Connor of the International Committee of Democratic Left encompassing the above is included as is a response from Mary Van Lieshout of Oxfam.
Then there is a Summary of discussion by Triona Dooney, of the DL Executive Committee.
There is far too much content to give anything other than a taste of the submission. O'Connor argues that 'from the socialist point of view there has only been one major change of relevance in capitalism since World War One forcing the socialist movement to change its tactics; the emergence of the reformable state. The socialist anti-war movement collapsed in 1914 not due to 'betrayal' by its leaders, but because the German labour movement, the backbone fo the International, decried that if its choice was between the destruction of its advanced welfare state in favour of the primeval Russian Empire and the British aim of dividing, weakening and hence dominating Europe – it would defend its state.
He also argues that 'The UN is a vaguely useful forum, and it is worth constantly trying to reform it and its instruments. It is certainly not the 'international community' and is a parody of 'world government'. Too much should not be expected of it. Remember it was created not to maintain peace but to subject world development to the total control of the small group of empires and powers which had 'won' the Second World War.
He continues that:
Blanket human rights do not exist though they are a worthy aspiration. The issue of child labour is a classic case in point and should be approached on a case-by-case basis. A similar situation is that of China and its attempt to modernise without facing the chaos that is destroying Russia.
Van Lieshout strongly disagrees with O'Connor's analysis in a number of areas – for example 'I have difficulty with Philip's promotion of 'cultural relativism' on the issue of human rights. She also argues he 'grossly underestimates the damage wreaked by conflict' and that there is an 'absence of an appreciation of the scale of the crisis of poverty which grips the world today'.
The discussion was wide-ranging and this was one thought…
Existing international institution such as IMF and G7 are not controllable by progressive forces; alternatives have to be developed but first we need a clear understanding of what we wish them to do.
More from Democratic Left
Democratic Left in the archive
---