Revolution in Italy 1943-48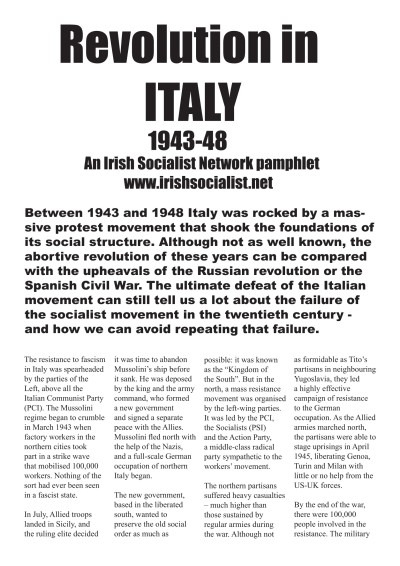 Please note:  The Irish Left Archive is provided as a non-commercial historical resource, open to all, and has reproduced this document as an accessible digital reference. Copyright remains with its original authors. If used on other sites, we would appreciate a link back and reference to The Irish Left Archive, in addition to the original creators. For re-publication, commercial, or other uses, please contact the original owners. If documents provided to The Irish Left Archive have been created for or added to other online archives, please inform us so sources can be credited.
Commentary From The Cedar Lounge Revolution
14th October 2019
Many thanks to Alan Kinsella of Irish Election Literature for this document. Produced by the Irish Socialist Network is a little different to many posted here. It seeks to examine the social and political changes that took place in Italy between 1943 and 1948. If anyone knows what the date of publication was we'd be very grateful.
It argues that 'Although not as well known, the abortive revolution of these years can be compared with the upheavals of the Russian revolution or the Spanish Civil War. The ultimate defeat of the Italian movement can still tell us a lot about the failure of the socialist movement in the twentieth century – and how we can avoid repeating that failure.'
And:
The resistance to fascism in Italy was spearheaded by the parties of the Left, above all the Italian Communist Party (PCI). The Mussolini regime began to crumble in March 1943 when factory workers in the northern cities took part in a strike wave that mobilised 100,000 workers. Nothing of the sort had ever been seen in a fascist state.
It considers various aspects including the way in which the PCI and Palmiro Togliatti placed national liberation and the destruction of fascism ahead of revolution – and argues that while this dovetailed with the Soviet analysis 'Having witnessed shattering defeats for the Left in Italy, Germany and Spain, the PCI leader was extremely cautious and averse to risk-taking of any sort. He was unwilling to sanction any moves to challenge the Italian social structure as long as the country was under Allied occupation, fearing that the PCI would be driven underground once again.'
There is an outline of how 'the old order' fought back, including the rise of the Christian Democrats. It also considers the manner in which a mass party was built, arguing act by 1947 when the PCI had two million members it had achieved that status. But it also critiques the PCI for not supporting land occupations and in so doing losing an opportunity to establish a base in the South.
More from Irish Socialist Network
Irish Socialist Network in the archive
---