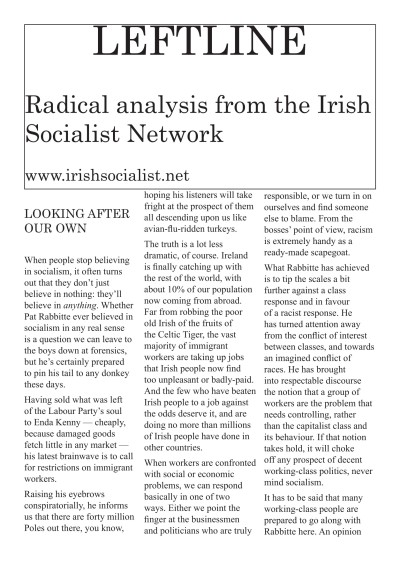 Please note:  The Irish Left Archive is provided as a non-commercial historical resource, open to all, and has reproduced this document as an accessible digital reference. Copyright remains with its original authors. If used on other sites, we would appreciate a link back and reference to The Irish Left Archive, in addition to the original creators. For re-publication, commercial, or other uses, please contact the original owners. If documents provided to The Irish Left Archive have been created for or added to other online archives, please inform us so sources can be credited.
Commentary From The Cedar Lounge Revolution
16th August 2021
Many thanks to the person who forwarded this to the Archive. This document from the Irish Socialist Network joins a number of others in the Archive.
This particular edition leads with a piece by Aindrias Ó Cathasaigh writing about the issue of immigration from other EU member states. And Ó Cathasaigh notes:
A workers' movement that really welcomed immigrant workers would be a very different movement indeed.

Just as the women once excluded from unions often turned out to be the best trade unionists, Irish workers could do with a shot in the arm from those Rabbitte wants to keep out.

The most militant part of the Irish working class last yearwas the Turkish part, the workers who fought Gama's exploitation and SIPTU's indifference.
There's also a piece on the 'Love Ulster' Dublin Riots of that year which notes:
Journalist Susan McKay has been a lone voice reminding. people that its chief organiser Willie Frazer is an apologist for terrorism who is manipulating the suffering of northern Protestants to further his anti-democratic agenda. Frazer's comments about loyalist paramilitaries ("they should never have been locked up in the first place") haven't been given much of an airing in the southern media.
Colm Breathnach reports on the Bin Tax protests and notes that:
With the issue languishing in the courts for months to come, popular resistance taking on the council across the city and an election in the offing, one thing is certain; the battles may rage but the war is far from over.
There's also a piece on the Iraq War that concludes:
One clear lesson should stand out from the experience of the last three years: anyone who argues that US military power can be a force for good in the world should be dismissed with the contempt they deserve.
More from Irish Socialist Network
Irish Socialist Network in the archive
---