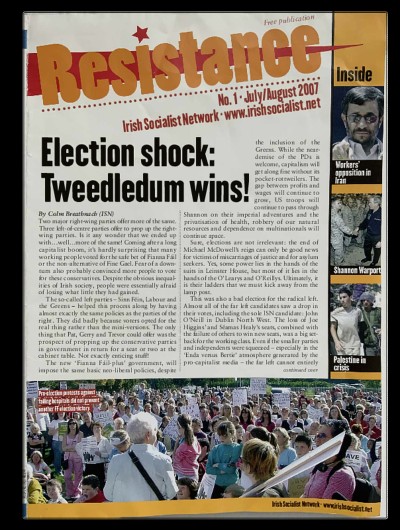 Please note:  The Irish Left Archive is provided as a non-commercial historical resource, open to all, and has reproduced this document as an accessible digital reference. Copyright remains with its original authors. If used on other sites, we would appreciate a link back and reference to The Irish Left Archive, in addition to the original creators. For re-publication, commercial, or other uses, please contact the original owners. If documents provided to The Irish Left Archive have been created for or added to other online archives, please inform us so sources can be credited.
Commentary From The Cedar Lounge Revolution
12th October 2020
This is the first edition of Resistance, the publication of the Irish Socialist Network, to add to the Archive. Taking an unusual format it was a full colour A2 publication folded in four.
The ISN, which is now defunct (unfortunately the website is no longer in operation) had a membership drawn largely but not exclusively from former Workers' Party activists. As a radical socialist, but avowedly non-Leninist, group the ISN took a very different approach to that party. There were also interesting nuances in respect to their attitude to Northern Ireland.
The "What We Stand For" section outlines that:
The ISN is a radical democratic socialist organisation, committed to the complete abolition of capitalism and its replacement by a socialist society.
And it sought 'a transformation of power relationships', 'collective ownership and democratic control fo all economic structures…by the working class', 'vindication of all human rights; social, political and individual' and 'a sustainable society, developing in harmony with the natural environment'.
It noted that:
Change is brought about by the empowerment of ordinary people not by a revolutionary vanguard or parliamentary elite. Openess, equality, internal democracy, consistent activism and a commitment to class politics are essential traits of a socialist organisation. Non-dogmatic Marxist thought is essential for analysing society and advancing the struggle for socialism.
This edition, No.1 from July/August 2007 covers a wide range of subjects with articles from Colm Breathnach on the 2007 General Election, Brendan Harrison on the PSNI which argues that 'it is the job of socialists to challenge the police, not support them', David Landy – secretary of the Irish Palestine Solidarity Campaign – on how to stand with Palestine. Rosanne Flynn of Residents Against Racism writes about racism and 'the new immigrants'. There's a book review by Fintan Lane of The Politics of Michael Davitt and a 'Rough Guide to Socialism' with the first being a piece by Ed Walsh on 'Socialist and Elections'. There's also an interview tis Yassamine Mather of the Hands Off the People of Iran Campaign.
Some other interesting features include a column of web links, to Indymedia Anti-War Ireland, IPSC, Choice Ireland, Shell to Sea, the Independent Workers Union and Red Banner publication amongst others.
More from Resistance [ISN]
Resistance [ISN] in the archive
---