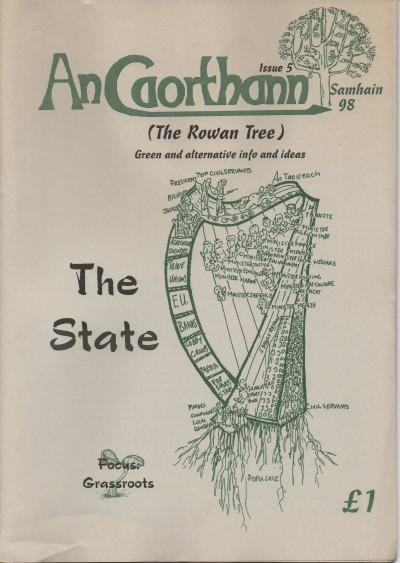 Date:
1998
Organisation:

Green Party

Publication:

An Caorthann

Issue:
Number

5


Samhain '98

C. Ó Caomhánaigh

,

Laurence Cox

,

Heinz Dessau

,

T. Dunne

,

Andrew Flood

,

John Goodwillie

,

John Gormley

,

David Landy

,

Peter Mansfield

,

Paul O'Brien

,

Sadhbh O'Neill

,

Jocelyne Rigal

,

Gary Thompson

,

Caroline White

View:
View Document
Discuss:
Comments on this document
Subjects:
 
Please note:  The Irish Left Archive is provided as a non-commercial historical resource, open to all, and has reproduced this document as an accessible digital reference. Copyright remains with its original authors. If used on other sites, we would appreciate a link back and reference to The Irish Left Archive, in addition to the original creators. For re-publication, commercial, or other uses, please contact the original owners. If documents provided to The Irish Left Archive have been created for or added to other online archives, please inform us so sources can be credited.
Commentary From The Cedar Lounge Revolution
28th May 2019
Many thanks to Laurence Cox. who was centrally involved, for offering an overview of this publication below. This is a most interesting document, and a useful addition to the Archive. As will be seen, positioned within the broad green movement and linked to the Green Party, An Caorthann was edited by a collective. Issues can be found here , but as always it is useful to have a full printed copy in the Archive in order to give a sense of what the magazine looked like. In fact it was a very professional publication, some 48 pages long, printed on unbleached recycled paper and with a green and black colour scheme throughout.
An Caorthann / The Rowan Tree was intended as a theoretical or at least thoughtful journal for An Comhaontas Glas / the Green Party. It ran from 1994 to some time in 1996, with a final issue coming out in 1998. The editors and writers came particularly from the Trinity branch and the party's left, with a broad perspective that saw the party as (at least potentially) the expression of multiple different social movements, so the intention was both to bring voices from various movements and to develop political ideas that might work in that perspective:

"An Caorthann (The Rowan Tree) is a quarterly magazine of information and discussion for the Irish Green Party / Comhaontas Glas and the wider green and alternative movement. We are trying to work towards a green response to contemporary events, issues and ideas, to encourage discussion and debate among Greens and to develop long-range thinking about aims and actions on the basis of an informed and critical awareness of ourselves and our natural and social environment. We are doing this on the basis of a non-dogmatic definition of "green", wide enough to cover anything which may contribute to the greening of Irish society: a better definition can only come from the interaction of ideas and practices within the movement. Instead of being "the voice of the Greens", we aim to provide a space for "the voices of the Greens", welcoming involvement from any quarter of the green movement and from sympathetic outsiders."

It was produced on a shoestring, with informal help, writers, art and layout from a range of sympathetic sources. Reception inside and outside the party was mixed: unlike the W German and Dutch parties, the Irish party had come from a "neither left nor right" perspective, which was particularly strong in some constituency groups who were overtly hostile to anything that went beyond a bulletin of party events or might threaten transfer-friendliness. These were also the years in which the party failed to take a position on abortion because of a model of consensus which enabled a small pro-life minority to block the majority, and An Caorthann was consistently feminist. Along with this, the party's eventual orientation towards coalition, long before it sat in government while the navy was used against Rossport protestors, tended to push Caorthann participants out at varying speeds.

We had some excellent writers and thinkers from inside and outside the Green Party – John Goodwillie, Sadhbh O'Neill, Andrew Flood, Paul O'Brien, Mary Condren, Ramor Ryan, John Seymour and Roy Johnston among the names readers today might recognise. At least on paper, it did manage to represent a dialogue between ecology activists and leftists, feminists and international solidarity activists, counter-cultural and strategically minded politicos, at a moment when red-green coalitions were on the agenda in Europe, roads protests were effective in Britain and many things that today can easily seem part of a new consensus still appeared deeply threatening culturally to many people – critiques of nationalism and racism, feminist and LGBTQ+ positions, eco-socialism and anti-state politics among them.

The journal was practically involved in trying to connect up alternative media around Ireland in the last couple of years before everything moved online, as well as bringing together some of the rural alternative visions which had survived the 1970s. On the former it connected with Community Media Network's work along similar lines, and the links made fed into the abortive "Ireland from Below" newspaper, with similar but more anti-state politics (2005-6). It bore the marks of the disconnect that existed in the period between some of the movements mentioned above and working-class community organising, rural community-based environmentalism and labour struggles. The anti-capitalist "movement of movements" of the early 2000s would make deeper and more radical connections across a wider range of struggles. Still I think Caorthann punched above its weight in terms of its connection to movements given how few people were involved in producing it and how little time most were able to give to it.
More from Green Party
---