The Necessity of Social Democracy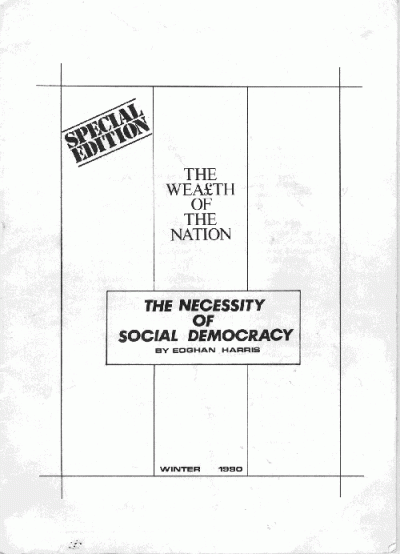 Please note:  The Irish Left Archive is provided as a non-commercial historical resource, open to all, and has reproduced this document as an accessible digital reference. Copyright remains with its original authors. If used on other sites, we would appreciate a link back and reference to The Irish Left Archive, in addition to the original creators. For re-publication, commercial, or other uses, please contact the original owners. If documents provided to The Irish Left Archive have been created for or added to other online archives, please inform us so sources can be credited.
Commentary From The Cedar Lounge Revolution
2nd June 2008
There are a select few documents or speeches that can rip a political party or movement apart. When written they lay bare some underlying problem or prod consciences into action. On the Personality Cult and its Consequences delivered by Kruschev in 1956 is an example. The Wealth of the Nation: The Necessity of Social Democracy, by Eoghan Harris (with considerable assistance from the indefatigable Eamonn Smullen) isn't .
That is not to say that it didn't have some impact on the Workers' Party. It did result in a sort of fractional schism of Workers' Party members, those centered around Eoghan Harris departing for the ideological wilderness - or the media - dependent upon taste. Nor is it to say that in what it said it was completely wrong. There are some interesting points, some provocative points and indeed some good points. But they're not necessarily the same points.
Its main import is perhaps to indicate the direction Harris et al would take, their own sense of importance within the party, and indeed the chaos that ensued on an ideological level with the changes within - and eventual dissolution of - the USSR. For some that meant a vindication of non-statist and anti-Stalinist approaches. For others a retreat into orthodoxy of the most predictable (and prolix) sort. Still others tried to carve out a niche between social democracy and the further left. But for Harris (and let us not forget Smullen - for the text contains both the rather gloomy Smullen style added to the near unbelievable chattiness of Harris in full flow) the answer was… Social democracy.
The document is long, and perhaps better analysed at some other point. I'll be interested in comments, but for a taste of the style of writing and analysis two examples will suffice.
We read in the Smullen penned introduction that:
This pamphlet argues that the word 'socialism' is now a brake on progress. It proposes a return to the revolutionary roots of social democracy and a commitment to 'revolutionary reformism', defined as reformist struggle conducted with revolutionary zeal for democratic ends - not in parliament only but in all spheres of civil society. … This critique marries Marxist theory to democratic politics and sets out a strategy for struggle within - and behalf of - a democratic pluralist political system where ideas will be the only acceptable currency of change…
Harris later writes that:
Before 1989 socialists always said 'we' never 'I'. This suppression of self, more fitting for Poor Clares than followers of the self-confident Karl Marx, led to a self-satisfied and self-imposed silence in socialist parties with members surrendering themselves to a higher power - with almost sado-masochistic relish in some cases. Silence and suppression of self killed socialism.
I've mentioned before that when I first read a version of it in the party journal I thought it hugely unconvincing, both in terms of its analysis and its proscriptions. Problems with Soviet style communism were hardly news in the late 1980s (or the late 1970s or 60s or 50s for that matter). But to argue that a leapfrog to a position near indistinguishable from the Labour Party was the answer seemed… Odd. The party had already come to terms with the market, at least rhetorically. And the Workers' Party wasn't suffering any evident decline in support during this period on its then existing platform. If anything, quite the opposite (which made the machinations during 1990/91 as regards the later split near-incomprehensible to many).
Fine to point up problems with previous analyses. But… Their then currency seemed a bit nebulous. And also a bit late in the day others might suggest, with some justification. But that was hardly the point. Here was the grand gesture, the ideological shift, the testament to their aching need to be relevant, not merely to the apparatus (of which they had once been a part) which was already arguably in decline but also to a party which had a new pole evolving in the shape of the elected representatives. Once they had been the only guys on the block. Now there were others with equal or greater power and influence.
It's never wise to underestimate the need for relevance, in life, in culture and above all in politics. The 'necessity' for Social Democracy was a manifestation of just such a personal and political dynamic.
More from The Workers' Party
The Workers' Party in the archive
---