Armed Struggle: An Open Letter to PIRA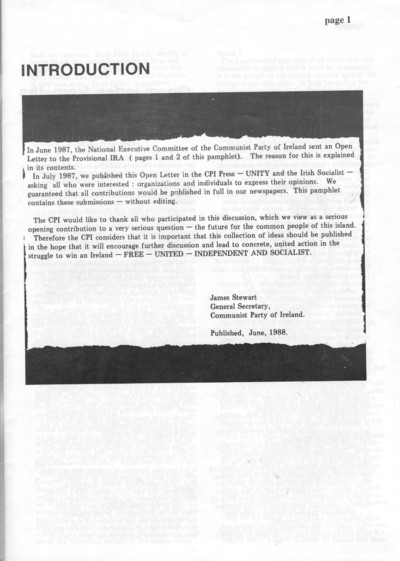 Please note:  The Irish Left Archive is provided as a non-commercial historical resource, open to all, and has reproduced this document as an accessible digital reference. Copyright remains with its original authors. If used on other sites, we would appreciate a link back and reference to The Irish Left Archive, in addition to the original creators. For re-publication, commercial, or other uses, please contact the original owners. If documents provided to The Irish Left Archive have been created for or added to other online archives, please inform us so sources can be credited.
Commentary From The Cedar Lounge Revolution
20th January 2008
A self-explanatory but very interesting document that runs to some 30 odd pages (the file size is 8mb - if this poses problems please comment and I'll try to reduce it yet further). This black and white A4 pamphlet contains an open letter to PIRA and responses to that letter from various individuals and parties, finishing with a further response from the CPI. It is much as one might expect, and yet, I can't help but admire the fact that such a discussion was taking place during a very dark period of the Troubles. I might - retrospectively - wish that the WP had been so wedded to persuasion as the CPI, but I guess that such a dialogue was close to impossible given the animosity and shared roots of the various organisations.
One point. When scanning this I neglected to include the front page. This was a donation, so I sent it back before realising the error. If anyone has a scan of the front page I'd be very grateful if you could forward it to the cedarlounge at cedarlounge@yahoo.ie so I can add it to the PDF. It doesn't lose much without it, but to maintain the integrity of the document it's better with it!
More from Communist Party of Ireland
Communist Party of Ireland in the archive
---