On the Resignation of the Cork Branch of the Irish Communist Organisation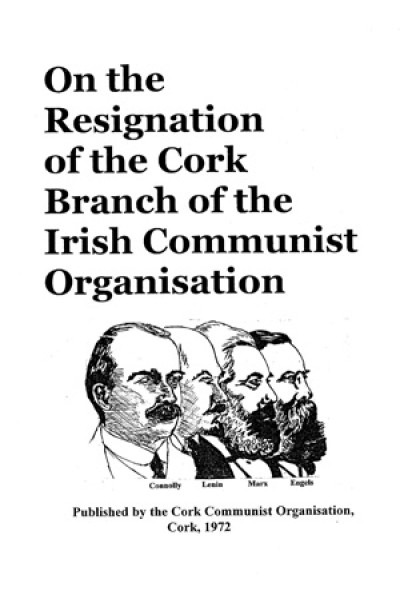 Please note:  The Irish Left Archive is provided as a non-commercial historical resource, open to all, and has reproduced this document as an accessible digital reference. Copyright remains with its original authors. If used on other sites, we would appreciate a link back and reference to The Irish Left Archive, in addition to the original creators. For re-publication, commercial, or other uses, please contact the original owners. If documents provided to The Irish Left Archive have been created for or added to other online archives, please inform us so sources can be credited.
Commentary From The Cedar Lounge Revolution
30th October 2007
An oddity this week from the Archive (and another donation to the Archive from Jim Lane - for which we're very grateful). This is a 20 page pamphlet issued by the Cork Communist Organisation in 1972. This was a split from the then sort of kind of Maoist Irish Communist Organisation which went on to become the British and Irish Communist Organisation. Within the pages of this document are detailed the upset of the CC Organisation at the Irish Communist Organisation and various policy positions. It's remarkable really.
Accusations of 'bourgeois factions', worries about secessionist tendencies (in the geographic sense of the term), the 'Two Nations' Theory and so on abound. Forensic attention is paid to these, and yet, let's not fool ourselves. The debates here mirrored or even predated debates in other organisations over the course of the conflict as those on the Left sought to understand and grapple with aspects of Nationalism.
Throughout there is a real sense of upset and hurt on the part of the CCO, perhaps even incomprehension, at the development (or is it deviation) of the ICO. On one level it is surprising how seriously all this was taken. Train journeys across Ireland to discuss the esoterica of party policy. Debates in pubs and meeting rooms. Of course, that is to ignore the time at which this was taking place. 1972, the conflict in the North gaining pace. Perhaps a sense that revolutionary change was possible, even if one was in the presumably tiny ICO. Incidentally, it's a world away from the politics I know and experienced. What about representation? The actual as distinct from notional working class? Getting down and dirty organising in constituencies? Was that part of the exercise or was it purely a talking shop? I would very much like to know, and to know what happened to the CCO. Any information would be appreciated….
---