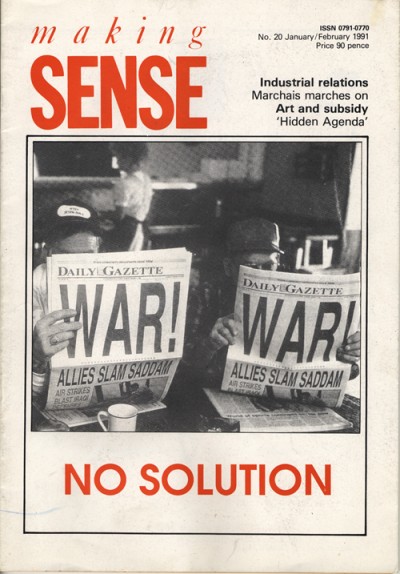 Date:
1991
Organisation:

The Workers' Party

Publication:

Making Sense

Issue:
Number

20


January/February 1991

Stephen Hopkins

,

Jim Kemmy

,

Lorraine Kennedy

,

Gary Kent

,

Pat McCartan

,

Gerard O'Quigley

,

Pat Rabbitte

,

Maurice Sheehan

,

Paddy Woodworth

View:
View Document
Errata:

Page 11 blank in original
Fiction short story, pages 20-25, not included

Discuss:
Comments on this document
Subjects:
 Divorce   Industrial Relations Act, 1990    
Please note:  The Irish Left Archive is provided as a non-commercial historical resource, open to all, and has reproduced this document as an accessible digital reference. Copyright remains with its original authors. If used on other sites, we would appreciate a link back and reference to The Irish Left Archive, in addition to the original creators. For re-publication, commercial, or other uses, please contact the original owners. If documents provided to The Irish Left Archive have been created for or added to other online archives, please inform us so sources can be credited.
Commentary From The Cedar Lounge Revolution
11th October 2007
Here is a curiosity from the Workers' Party. A magazine produced by that party which rather grandly termed itself "Ireland's political and cultural review". A4 in format. Two colours on the cover - black and red, wouldn't you know? - and 30 odd pages long.
This issue is particularly interesting because it predates the split in the WP by months. You might think that there might be some hint of the split in the text. You might well be wrong. Which I think as a broad reflection of the tensions within the party is quite remarkable. Remarkable if only because the tilt is towards the group that would later form the Democratic Left. So we find Pat McCartan (then a TD) writing about divorce. A rather good book review by Pat Rabbitte and some interesting articles including one by Stephen Hopkins on the PCF which is clearly aligned with the modernising tendency within that grouping. We also find Gerry O'Quigley's article on socialists and economics which is as applicable today as it was then (and for more see here ). Most intriguing is an article by then (and I think now) Irish Times journalist and former WP member Paddy Woodworth which discusses various events inside the life of the party in the previous five years for one page then… stops. The next page is blank. So we get half an article. I have no knowledge as to whether this was part of some great conspiracy, I tend to doubt it… because a short story later in the issue (which I haven't scanned) is also missing a page. I'm certain someone could enlighten us either way.
I have other WP material which I'll post up, but the tone is rather different. This - to me at least - is not that dissimilar to Marxism Today, Gerry O'Quigley namechecks 'post-fordism', with perhaps a very very slightly harder political edge (although not quite in the league of some of the material so far seen in the Archive) but also incorporating a strongly cultural bent. Methinks Gramsci was getting quite a look in at this point in the development of the party.
But what is curious is that the older 'traditional' line is not really evident. The editorial is predictably strong on the first Gulf War (although quoting Chomsky and Fisk seems to hint at a very different future). Sure, there is the ritual obeisance in the Gary Kent review of 'Hidden Agenda' at the alter of anti-Provoism. Granted the US is given a lash by Noel McFarlane. But, to my eye, it's all a bit half-hearted. In a way it seems to point to the reality of what one is left with if revolutionary jargon (or cant - delete as applicable) is stripped away.
Still, the Woodworth article is great. For a sense of what the party was like and the lines that weren't crossed, let alone approached in terms of discussion, it is revelatory and tallies with my experience. Woodworth appears fairly disdainful of both old, new and Harris wings of the party. And the ghost of 1989-1991 and the collapse of the USSR permeates the piece.
I really wish the other page had been printed.
More from Making Sense
---