The Labour Party Outline Policy: Health, Social Welfare
As adopted by the Labour Party Annual Conference, January 1969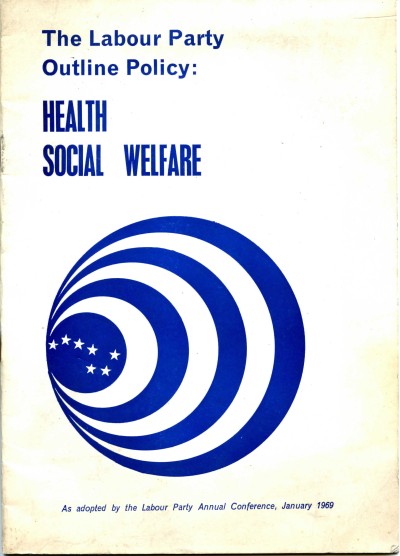 Please note:  The Irish Left Archive is provided as a non-commercial historical resource, open to all, and has reproduced this document as an accessible digital reference. Copyright remains with its original authors. If used on other sites, we would appreciate a link back and reference to The Irish Left Archive, in addition to the original creators. For re-publication, commercial, or other uses, please contact the original owners. If documents provided to The Irish Left Archive have been created for or added to other online archives, please inform us so sources can be credited.
Commentary From The Cedar Lounge Revolution
16th October 2017
Many thanks to the person who forwarded this to the Archive.
This document joins others outlining policy from the Irish Labour Party at the beginning of the 1970s. The fact that Health and Social Welfare are combined largely under the same heading is interesting. However the Labour Party argues 'that the community has the responsibility of providing a free medical health service for all citizens without distinction'. It also dismisses the 'conservative government now in power which proposes to introduce free choice of doctor without fee for some 30% of the population. It does not accept responsibility for providing the middle income group with similar facilities'. The document is strongly in favour of community health care and is quite comprehensive addressing geriatric care, mental health and research. In terms of funding it supports expenditure funded by the state and is against 'flat insurance based schemes' due to their lack of redistributive effect.
Similarly with social welfare the party argues that 'the role of social services is central to any democratic socialist programme'. And it continues 'the objective of this social welfare policy is to secure for each person a basic standard of living in terms of income and services, thereby eliminating poverty from society'.
It argues for a Social Fund and a Department of Social Development which would be responsible for co-ordination of social services.
Notable is the unabashed language of democratic socialism.
More from Labour
---