Malachy McGurran - A Dedicated Revolutionist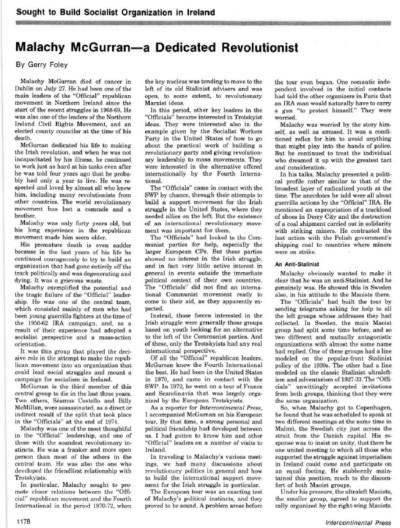 Please note:  The Irish Left Archive is provided as a non-commercial historical resource, open to all, and has reproduced this document as an accessible digital reference. Copyright remains with its original authors. If used on other sites, we would appreciate a link back and reference to The Irish Left Archive, in addition to the original creators. For re-publication, commercial, or other uses, please contact the original owners. If documents provided to The Irish Left Archive have been created for or added to other online archives, please inform us so sources can be credited.
Commentary From The Cedar Lounge Revolution
21st November 2016
Thanks to NollaigO for forwarding this, an obituary of Official Sinn Féin leader Malachy McGurran written by Gerry Foley and published in Intercontinental Press on October 23 1977. This is a further addition to the library of texts written by Foley on Republicans and Socialists in Ireland during the 1970s.
McGurran who died tragically at the very young age of 40, was a leading figure in OSF in the North. Foley, who clearly retained considerable personal affection and admiration for McGurran despite significant differences politically offers an overview from a Trotskyist position of the development of OSF.
Interestingly Foley contextualises McGurran's death with that of Billy McMillan and Séamus Costello, all of which had taken place within the previous three years. He suggests that McGurran had sought to 'promote closer relations between the 'Official' republican movement and the Fourth International. He also argues that McGurran 'obviously wanted to make it clear he was an anti-Stalinist'.
The obituary is entitled 'Malachy McGurran – a Dedicated Revolutionist' and at four pages long is a fascinating addition to the archive.
More from Intercontinental Press
Intercontinental Press in the archive
---