Official Republicans Meet in Dublin: A Step Forward for the Irish Vanguard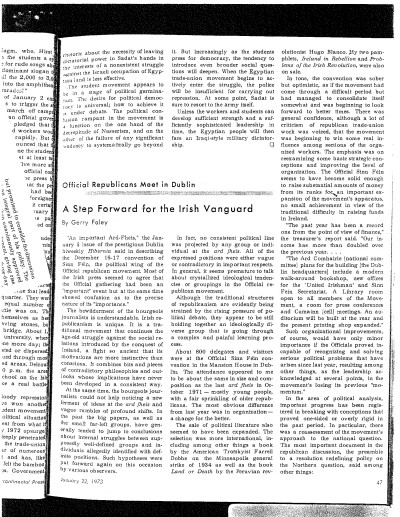 Please note:  The Irish Left Archive is provided as a non-commercial historical resource, open to all, and has reproduced this document as an accessible digital reference. Copyright remains with its original authors. If used on other sites, we would appreciate a link back and reference to The Irish Left Archive, in addition to the original creators. For re-publication, commercial, or other uses, please contact the original owners. If documents provided to The Irish Left Archive have been created for or added to other online archives, please inform us so sources can be credited.
Commentary From The Cedar Lounge Revolution
25th November 2019
Thanks to Jim Monaghan for forwarding this to the Archive.
This short piece adds to the collection of articles and publications written by Gerry Foley. In this one he discusses the Official Republican convention in December 1972 in Dublin. He writes:
Irish republicanism is unique. It is a traditional movement that continues the age-old struggle against the social relations introduced by the conquest of Ireland, a fight so ancient that its motivations are more instinctive than conscious. It combines bits and pieces of contradictory philosophies and outlooks whose implications have never been developed in a consistent way.
And he notes the 800 delegates and visitors at the convention in the Mansion House. He suggests that the outlook was more 'international' and the 'sale of political literature… seemed to have been expanded' with books by American Trotskyists, including his own.
This snapshot of a movement at a time of expansion and optimism is striking. He quotes the treasurers report mentioning, 'plans for the building [Dublin HQ] includ[ing] a modern walk-around bookshop, new offices for the United Irishman and SF Secretariat. A Library room… a room for press conferences, and Cumainn meetings'.
He also suggests that 'in the area of political analysis important progress has been registered in breaking with conceptions that proved one-sided or overly rigid in the past'.
He notes that 'condemnations of the 'Provisional Alliance' have 'become almost a ritual in OSF' and 'serve no rational purpose'. And he points to this being 'essentially moralistic, metaphysical absolutism' which 'weakens the militant nationalist current in general' and 'poison discussions and introduced an atmosphere of dogmatism and suspicion. In particular, blaming all the defeats of the past year on the Provisionals is unpleasantly reminiscent of the Stalinist practices of looking for traitors when things go wrong. A more materialistic analysis would be to analyse objectively the factors that enabled the Provisionals to grow and to play the 'disastrous' role Mac Giolla ascribes to them, especially the errors of the Official movement that contributed to the growth of the rival grouping'.
More from Intercontinental Press
Intercontinental Press in the archive
---