Ireland in Rebellion
Including Interviews with Cathal Goulding, Chief of Staff IRA and Tomás Mac Giolla, President, Sinn Féin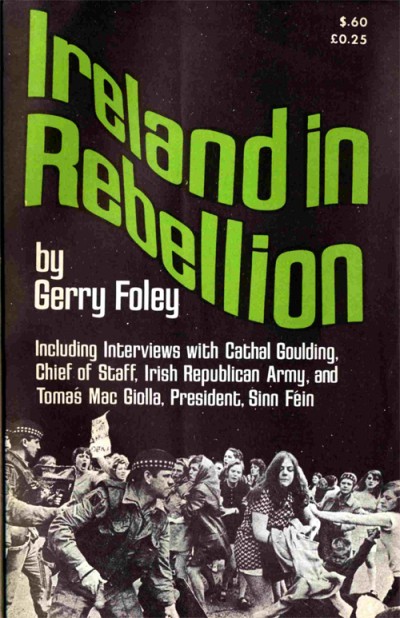 Please note:  The Irish Left Archive is provided as a non-commercial historical resource, open to all, and has reproduced this document as an accessible digital reference. Copyright remains with its original authors. If used on other sites, we would appreciate a link back and reference to The Irish Left Archive, in addition to the original creators. For re-publication, commercial, or other uses, please contact the original owners. If documents provided to The Irish Left Archive have been created for or added to other online archives, please inform us so sources can be credited.
Commentary From The Cedar Lounge Revolution
30th April 2012
Published by Pathfinder Press in 1971 and then reprinted in March 1972 this document was written by Gerry Foley who passed away last weekend. It complements another document  written by him during the same period which analyses aspects of the conflict on the island. Foley at that time was very close to the leadership of Official Sinn Féin.
It is perhaps best to let the document speak for itself, but as can be seen it is divided into an Introduction, a chapter entitled Why Socialism is Coming to the fore in Ireland by Foley and interviews with Cathal Goulding and Tomás Mac Giolla. Worth noting that both those interviews date from 1970.
Foley saw considerable scope for progress in the course of the events in Ireland during those years, but he also articulated a clear-sighted critique which noted both the problems facing Official Republicanism (and the potential political strength of their rivals in Provisional Republicanism) and the opportunities implicit in the struggle.
Thanks to Jim Monaghan for noting another of Foley's documents available here. 
More from Intercontinental Press
Intercontinental Press in the archive
---