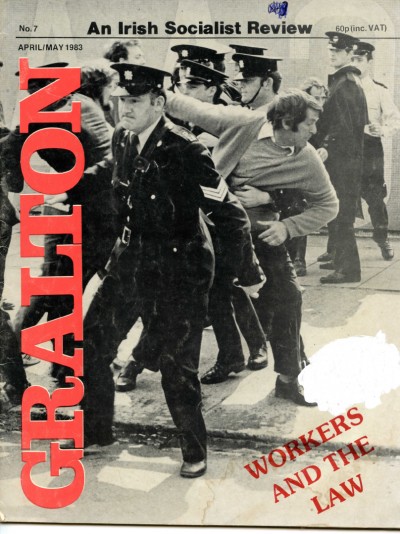 Date:
May 1983
Publication:

Gralton

Issue:
Number

7

John Cane

,

Daltún Ó Ceallaigh

,

Des Derwin

,

Nora Hamill

,

Margaret Hickey

,

Molly Kallen

,

Matt Merrigan

,

John Mulholland

,

Tom O'Connor

,

Brian Trench

Collection:
Abortion and reproductive rights
View:
View Document
Discuss:
Comments on this document
Subjects:
 Eighth Amendment (Right to life) Referendum, 1983   Brendan Ryan   
Please note:  The Irish Left Archive is provided as a non-commercial historical resource, open to all, and has reproduced this document as an accessible digital reference. Copyright remains with its original authors. If used on other sites, we would appreciate a link back and reference to The Irish Left Archive, in addition to the original creators. For re-publication, commercial, or other uses, please contact the original owners. If documents provided to The Irish Left Archive have been created for or added to other online archives, please inform us so sources can be credited.
Commentary From The Cedar Lounge Revolution
12th September 2016
Many thanks to Jim Lane for donating this and other copies of Gralton to the Left Archive. It is intended to reproduce these every month or so for the next year and a half and thereby have a full run of them online (except for number 6. We would be very grateful for a scan of same).
As noted previously Gralton magazine ran for ten issues from 1982 to 1983. It took it's name from James Gralton, "the only person to have been deported from the 26 counties for political activity".
This edition examines the topic of Workers and the Law with a long piece from Des Derwin on the topic of 'worker-state confrontations'. It also considers the history of Jim Gralton in a long article. There's a piece on the 'revolutionary aspirations' of the Socialist Labour Party and the history of that organisation, again by Des Derwin.
There's a report on the Anti-Amendment Campaign and on the first ICTU Women's Conference, held in February of that year.
Also notably there's a piece from Dublin Gay Collective on the murder of Declan Flynn in Fairview Park – the anniversary of which was last Saturday, and the fact those who committed the murder received suspended sentences.
Neutrality is discussed and there's an interview with Brendan Ryan who had recently been elected to the Seanad for a second time as an independent.
More from Gralton
---