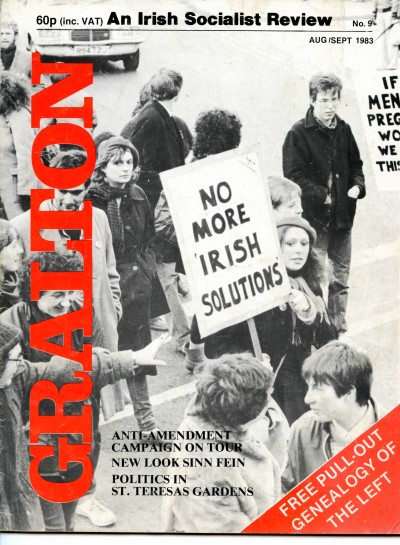 Please note:  The Irish Left Archive is provided as a non-commercial historical resource, open to all, and has reproduced this document as an accessible digital reference. Copyright remains with its original authors. If used on other sites, we would appreciate a link back and reference to The Irish Left Archive, in addition to the original creators. For re-publication, commercial, or other uses, please contact the original owners. If documents provided to The Irish Left Archive have been created for or added to other online archives, please inform us so sources can be credited.
Commentary From The Cedar Lounge Revolution
2nd April 2018
Many thanks to Jim Lane for forwarding this to the Archive.
Continuing our posting of Gralton magazine and now coming to the end of the editions that have been printed of it here is August/September 1983 and No. 9. This edition has a number of particularly interesting aspects. For a start the genealogy of the Left by John Goodwillie is available as a pull-out section.
This is, of course, the inspiration for the Timeline available on the Irish Left Archive – and Goodwillies elegant graphic approach still holds ups as the best and most effective way of outlining the history of the Irish left in printed format.
Other pieces include articles on the Rents campaign, an interview with the General Secretary of CND, Spain after the victory of the PSOE, the anti-amendment campaign, politics in the flats, the British Labour Party, Sinn Féín and 'recent developments' as well as a review by Roy Johnston of 'two books on Fianna Fáil'.
It's worth reflecting on just how high the quality of production and writing was in this publication. The use of photographs, the content of stories and breadth of topic is genuinely striking. A publication that repays consideration even at this remove.
More from Gralton
---