Workers' Life, Vol. 2, No. 1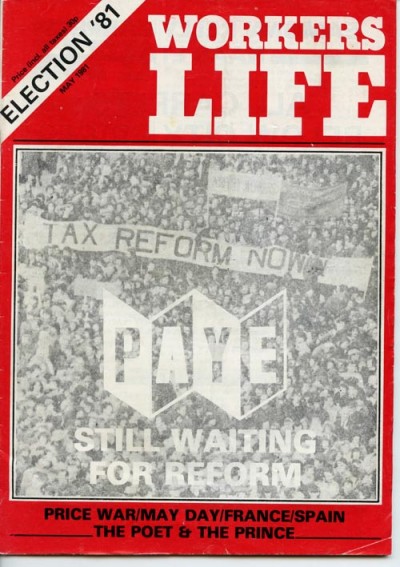 Please note:  The Irish Left Archive is provided as a non-commercial historical resource, open to all, and has reproduced this document as an accessible digital reference. Copyright remains with its original authors. If used on other sites, we would appreciate a link back and reference to The Irish Left Archive, in addition to the original creators. For re-publication, commercial, or other uses, please contact the original owners. If documents provided to The Irish Left Archive have been created for or added to other online archives, please inform us so sources can be credited.
Commentary From The Cedar Lounge Revolution
7th September 2015
Many thanks to Áine Mannion for forwarding this to the Archive.
This edition of Workers Life, the magazine of Sinn Féin The Workers' Party joins the other in the Archive and further underscores the good production values of this publication. Again, like the other issue it does not overly emphasise its links to SFWP. The editorial discusses the foreign policy of the Republic of Ireland with reference to the then permanent representative of the Irish government to the United Nations, Noel Dorr who was at that point President of the Security Council.
There is an account of the Fianna Fáil Ard Fheis and an analysis of the Irish left under the heading 'The General Election will see a shift in balance on the Left as Sinn Féin The Workers' Party make their long-awaited breakthrough'. Des O'Hagan contributes a piece on the Fermanagh/South Tyrone by-election where Bobby Sands defeated OUP candidate Harry West. In the course of that piece he suggests that:
If ever here was an occasion when one would like to be a political scientist examining elections from the vantage point of city years hence, then surely the impending Northern Ireland Local Government elections is that occasion. The reasons are obvious. Apart from the atmosphere in which the elections are being conducted, sectarians, violence and the absence of a central democratic government, voters are confronted with a bewildering variety of parties, if not programmes, from which to pick.
Paddy Gillan examines the relationship between Anthony Cronin and Charles Haughey, there's a piece on 'PAYE workers still waiting for reform' and one on the 'battle for the minds and pockets of the public in the Republic by the large supermarket multiples and the so-called 'independent' grocers…'.
There's a section on the International Year of the Disabled which calls for full participation and equality.
In international affairs there's a sympathetic article on the French PCF and one on the recent coup attempt in Spain. There's also a broad range of essays and pieces on culture and a poem is included too.
More from Workers' Life
---