Northern Ireland Report, No. 24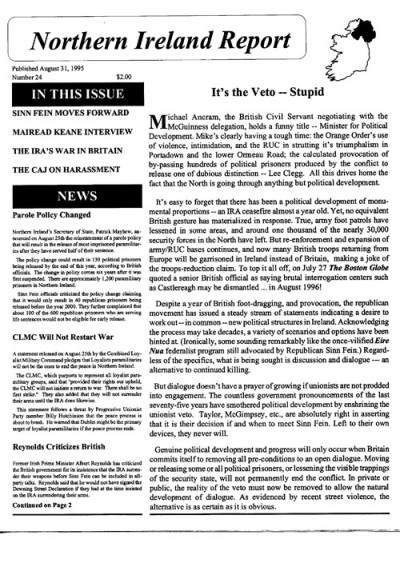 Please note:  The Irish Left Archive is provided as a non-commercial historical resource, open to all, and has reproduced this document as an accessible digital reference. Copyright remains with its original authors. If used on other sites, we would appreciate a link back and reference to The Irish Left Archive, in addition to the original creators. For re-publication, commercial, or other uses, please contact the original owners. If documents provided to The Irish Left Archive have been created for or added to other online archives, please inform us so sources can be credited.
Commentary From The Cedar Lounge Revolution
31st August 2015
Many thanks to the person who forwarded this to the Archive.
This document adds to our collection of Northern Ireland Report, a US based publication from the 1990s which sought to position itself as a left critique of Sinn Féin. The edition we first posted up some time back was Number 2 from 1992. This, Number 24, from 1995 is obviously positioned at a different time in the progress of the peace process.
In that respect the leading article is 'It's the Veto—Stupid'.
Other pieces deal with the Combined Loyalist Military Command's statement that it will not 'restart war', another notes the IRSP argues the IRA should reconsider its ceasefire. Another has former Taoiseach Albert Reynolds criticising the British.
There's a fascinating piece by Jim Dee which considers whether the then situation was a 'win, lose or draw?' for SF. It suggests that:
Sinn Féin has won the first stage of the peace – hands down. Since the mid-1970's, the vast majority of the general public has equated the IRA and SF with crisis (e.g. the Hunger Strikes, Gibraltar and its bloody aftermath, Warrington, etc.). Today the republican movement has transformed its public image, conveying an image of flexibility via a leadership quickly learning the ropes of international statecraft. And while no delusions should be harboured regarding rewards to date – there have been no tangible rewards – republican flexibility signals a maturing and growth of the movement which will serve them well in the days ahead.
There's an interview with Sinn Féin's Mairead Keane, who at that point headed up SF's Washington D.C. office. There's a fairly critical analysis of Martin Dillon and his works on the conflict in Northern Ireland.
The back page has a notice which reads:
NIR is an independent publication and is not affiliated with any political party, group or organisation in Northern Ireland or the United States.
More from Northern Ireland Report
Northern Ireland Report in the archive
---