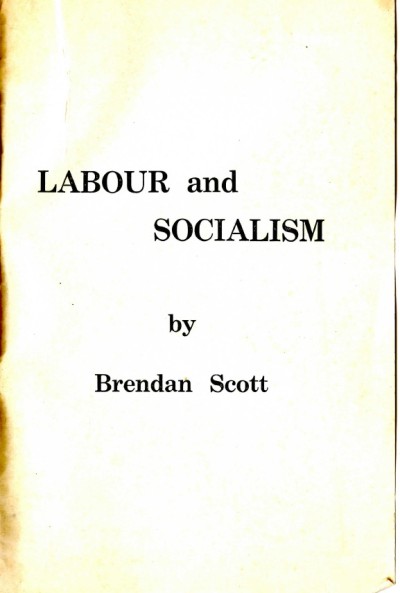 Please note:  The Irish Left Archive is provided as a non-commercial historical resource, open to all, and has reproduced this document as an accessible digital reference. Copyright remains with its original authors. If used on other sites, we would appreciate a link back and reference to The Irish Left Archive, in addition to the original creators. For re-publication, commercial, or other uses, please contact the original owners. If documents provided to The Irish Left Archive have been created for or added to other online archives, please inform us so sources can be credited.
Commentary From The Cedar Lounge Revolution
22nd June 2015
Many thanks to Peter Mooney for donating this document to the Archive – one of many from his collection that are being posted to the Left Archive this year and next.
This is an unusual document, an essay by Brendan Scott with an appreciation of Scott by Noel Browne. The document itself was first published in 1973 and the frontispiece notes:
This essay is published as a simple tribute to Brendan by his comrades in the Labour Party Liaison Committee of the Left. his great impact in the path was through his speeches and lectures as he was primarily a teacher. This booklet will recall the fundamental so what he taught to those who knew and learned from him. For a new generation it will start again the debate and action on those ideas. In that way it will be his epitaph.
The essay asks amongst other questions, 'what stage of development has now been achieved by the Irish people?'. It also touches on the conflict in the North and it discusses the increasing usage of the term 'social democratic' by the Irish Labour Party. It also notes:
We are also told time after time by Coalition Europeans, 'Seven Days', John Healy, Michael McInerney etc, that all the Social Democratic parties have been in coalitions; that in fact coalition is almost a sacred principle of social democracy.
And he quotes those who 'probe for the reasons for revisionism and de-radicalisation within the European Social Democratic Parties'.
He notes that there is a very wide gulf between egalitarian and meritocratic social democracy. The former wants to get rid of privilege – the latter wants to change the rules on how privileges are allocated. Socialism seeks classlessness, Social Democracy is content with class mobility. Socialism wants industrial democracy, Social Democracy is prepared to live with a private sector dominated economy, provided there is a welfare service safety net. Socialism sees the cause of inequality as the capitalist system – Social Democracy believes it can run the system better than the capitalists.
There's much more, including his criticism of the danger of 'Social Democratic involvement in coalitions is the tether which this places on affiliated trade unions' to class politics and other criticism of the 'profound hatred of our socialist sects'.
The appreciation by Noel Browne is unabashed, speaking of Scott as 'a revolutionary Marxist in the barren political wasteland of this Republic with its thousands of one-time socialists with nothing but guilty consciences to show for it' and that 'all that is certain is that we cling to our socialism, we owe this to our comrades everywhere in completing the giant jigsaw of world revolution'.
Just to note that Scott is mentioned here http://www.redbannermagazine.com/Roddy%20Connolly.pdf  as someone 'who was advocating co-operation between Labour and the republican movement'. We'd be very grateful for any further information on Scott and this publication.
---