The United Irishman, Vol. 23, No. 7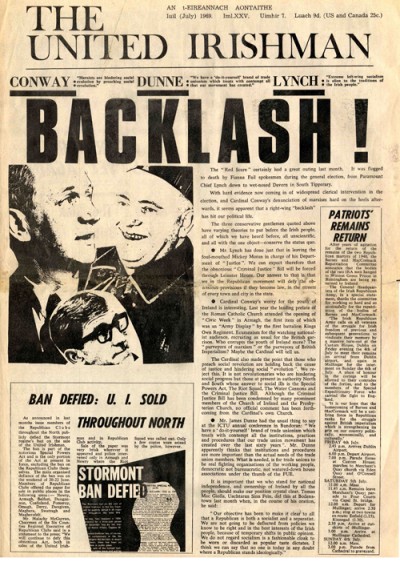 Please note:  The Irish Left Archive is provided as a non-commercial historical resource, open to all, and has reproduced this document as an accessible digital reference. Copyright remains with its original authors. If used on other sites, we would appreciate a link back and reference to The Irish Left Archive, in addition to the original creators. For re-publication, commercial, or other uses, please contact the original owners. If documents provided to The Irish Left Archive have been created for or added to other online archives, please inform us so sources can be credited.
Commentary From The Cedar Lounge Revolution
27th July 2009
Another edition of the United Irishman, this from the pivotal month of July, just prior to the events of August 1969 which we will be looking at over the next four or five weeks. The tone of the paper is striking. It references on the front page the quote from Cardinal Conway that 'those who preach social revolution are holding back the cause of justice and hindering social evolution', another from Taoiseach Jack Lynch that "Extreme left-wing socialism is alien to the tradition of the Irish people" and one from James Dunne of ICTU that "We have a 'do-it-yourself' brand of trade unionism which treats with contempt all the institutions, practices and procedures that our trade union movement has created over the last sixty years". These are then contextualised by a further quote from Tomas Mac Giolla, then Uachtaran Sinn Féin, who at Bodenstown the previous month had said:
"Our objective has been to make it clear to all that a Republican is both a socialist and a separatist. We are not going to be deflected from policies we know to be right and in the best interests of the Irish people, because of temporary shifts in public opinion. We do not regard socialism as a fashionable cloak to be worn or discarded as popular taste dictates. I think we can say that no one is today in any doubt where a Republican stands ideologically".
The other front page story "Ban Defied: U.I. Sold Throughout North" seems perhaps a little tame given what would happen during August.
Inside it is surprising how little, relatively speaking, there is on the North. Granted there is a short piece seemingly meant to be read by Unionist. But in the main it doesn't figure highly. There are useful pieces on Problems of Ideology which intriguingly references Teilhard de Chardin and how his philosophy 'seeks to reconcile christian theology with the scientific theory of evolution in an intimate and indissoluble way'. Another piece details Palestine. And there's also one on Zambia. The history of Conradh na Gaeilge is outlined in yet another. There are a number of mentions of the Free Wales Army (and is it possible that they fed into enduring rhetoric about that particular period in history?).
The 'campaign for the re-conquest of Ireland' has an entire page to itself detailing pickets and fish-ins across the country, certainly detailing considerable activity.
The full text of the oration by Tomas MacGiolla is contained within and there's little doubt that this was an emphatically leftwing address. And the editorial on the back page concentrates largely on the Common Market. All told then a document which truly charts the calm before the storm.
More from The United Irishman
The United Irishman in the archive
---