Revolutionary Nationalism, Class Struggle, and Problems of Party Building in Ireland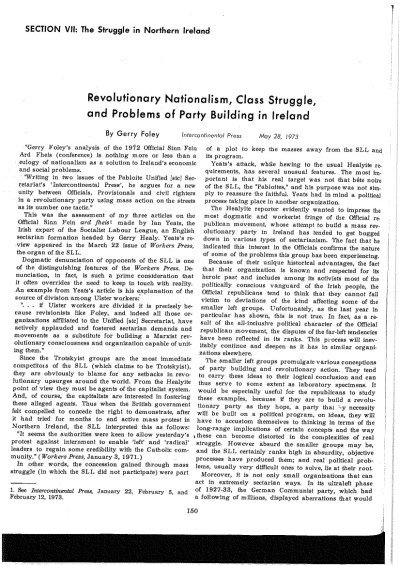 Please note:  The Irish Left Archive is provided as a non-commercial historical resource, open to all, and has reproduced this document as an accessible digital reference. Copyright remains with its original authors. If used on other sites, we would appreciate a link back and reference to The Irish Left Archive, in addition to the original creators. For re-publication, commercial, or other uses, please contact the original owners. If documents provided to The Irish Left Archive have been created for or added to other online archives, please inform us so sources can be credited.
Commentary From The Cedar Lounge Revolution
22nd December 2014
This article is a further addition to the now strong collection of works by Gerry Foley from the 1970s on Irish republican socialist political activity. This particular article which was printed in Intercontinental Press in May 1973 comes on foot of two previous pieces he had written in that publication on the same topic.
This particular article is in part written in response to a critique written by a member of the Gerry Healy led Socialist Labour League (later Workers Revolutionary Party) [wiki entry on those organisations available here ]. what is particularly interesting is that Foley argues that the critique was written in order:
…to impress the most dogmatic and workerist fringe of the Official republican movement, whose attempt to build a mass revolutionary party in Ireland has tended to get bogged down in various types of sectarianism. The fact that [the writer] indicated this interest in the OFficials confirms the nature of some of the problems this group has been experiencing.
Foley continues:
Because of their unique historical advantages, the fact that their organisation is known and respected for its heroic past and includes among its activists most of the politically conscious vanguard of the Irish people, the Official republicans tend to think that they cannot fall victim to deviations of the kind affecting some of the smaller left groups.

Unfortunately, as the last year in particular has shown, this is not true. In fact, as a result of the all-inclusive political char ted of the Official republican movement, the disputes of the far-left tendencies have been reflected in its ranks. This process will inevitably continue and deepen as it has in similar organisations elsewhere.
The article examines the topics addressed under a number of topics including 'The Civil Rights Struggle', 'The Role of Stalinism', the 'Theory of Permanent Revolution' the 'Danger of Reformist Orientation' and the 'Need for a United Front'.
More from Intercontinental Press
Intercontinental Press in the archive
---