What Sinn Féin means by 'Regionalisation'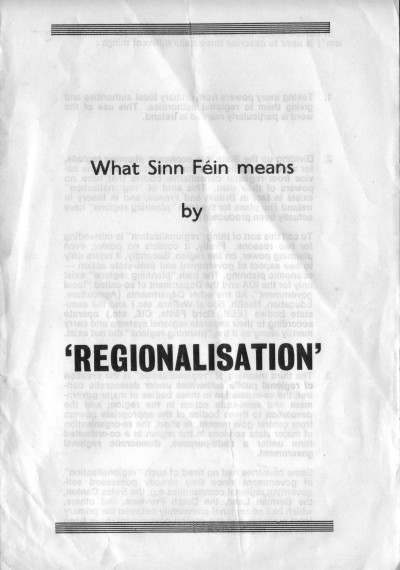 Please note:  The Irish Left Archive is provided as a non-commercial historical resource, open to all, and has reproduced this document as an accessible digital reference. Copyright remains with its original authors. If used on other sites, we would appreciate a link back and reference to The Irish Left Archive, in addition to the original creators. For re-publication, commercial, or other uses, please contact the original owners. If documents provided to The Irish Left Archive have been created for or added to other online archives, please inform us so sources can be credited.
Commentary From The Cedar Lounge Revolution
14th April 2014
This is a short leaflet from Sinn Féin in 1974 which outlines its approach to 'Regionalisation'. There is an oddly contemporary note in its definition of same, when it suggests that one meaning is 'Taking away powers from primary local authorities and giving them to regional authorities. This use of the word is particularly marked in Ireland.'
It notes another meaning is 'Dividing the state into economic planning regions for which planning is done centrally with some advice from regional consultative bodies that have no powers of their own'.
And finally it seeks the creation of regional public authorities under democratic control.
Obviously this links in to the approach espoused in Éire Nua (which can be found in the Archive here) and it quite naturally leads to the federal Ireland envisaged in that document.
More from Sinn Féin
---