Focus: Internal Bulletin of the Workers' Party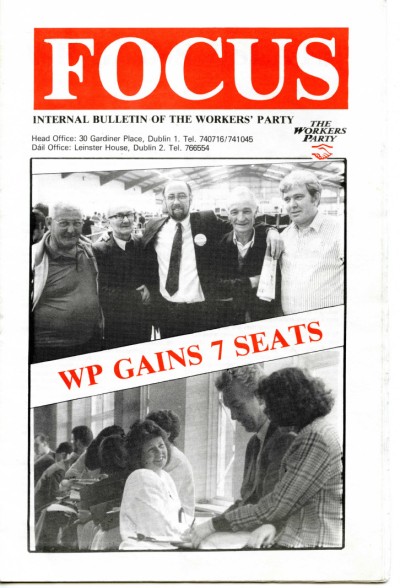 Please note:  The Irish Left Archive is provided as a non-commercial historical resource, open to all, and has reproduced this document as an accessible digital reference. Copyright remains with its original authors. If used on other sites, we would appreciate a link back and reference to The Irish Left Archive, in addition to the original creators. For re-publication, commercial, or other uses, please contact the original owners. If documents provided to The Irish Left Archive have been created for or added to other online archives, please inform us so sources can be credited.
Commentary From The Cedar Lounge Revolution
24th March 2014
This document, Focus, the Internal Bulletin of the Workers' Party, dates from 1991 and is of particular interest because it predates the split in that party by a relatively short period. Focus replaced the previous party bulletin "News & Views".
It is also of interest because this edition covers the then recent local elections where the Workers' Party took 7 new council seats. These included new seats on Meath and Waterford County Councils, Jimmy Homan taking a third seat for the party on Cork Corporation and a further three on Dublin City Council. Overall the party took 24 seats.
However as the document notes in its introductory piece on the elections, 'the party made a number of gains, but a number of disappointments tended to sour the election outcome. In particular the losing of seats in Dublin City and Galway. Despite the good opinion polls and impressive canvass returns, the party did not take additional seats in Dublin City, although Jim Allen came very clseo on his first outing Rathmines, Niall Behan standing in Howth, with marian White standing in Blackrock were similarly close to taking seats.
It also notes:
In Waterford City the party share of the vote was 22%, the highest of any party in the City, which ensure the that party held its three seats.
And it concludes that:
The local elections confirmed that the WP is here to stay and continues to gather support and grow. Growth for the party can only come through hard work and diligent cultivation of the people.
Other pieces of interest in the document include one's on the 'new party logo', an article on the 'vicious journalistic attack' by the BBC Northern Ireland Spotlight programme on the Workers' Party and included is the text of the party's response to programme, articles on WP Youth, Northern Ireland Conference and the platform of the Left Unity group in the European Parliament.
There's also an advertisement for a 'new General Secretary' of the party to replace Sean Garland.
More from The Workers' Party
The Workers' Party in the archive
---