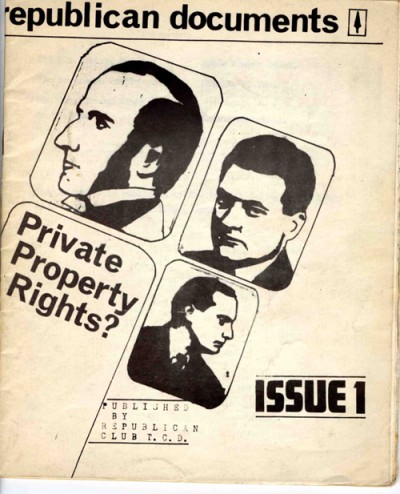 Please note:  The Irish Left Archive is provided as a non-commercial historical resource, open to all, and has reproduced this document as an accessible digital reference. Copyright remains with its original authors. If used on other sites, we would appreciate a link back and reference to The Irish Left Archive, in addition to the original creators. For re-publication, commercial, or other uses, please contact the original owners. If documents provided to The Irish Left Archive have been created for or added to other online archives, please inform us so sources can be credited.
Commentary From The Cedar Lounge Revolution
14th October 2013
This document issued by the Republican Club in Trinity College Dublin, was one of a series which included 'Selected Works of O'Connaire, Mellowes, and Costelloe' as well as 'The Writings of John Mitchell'. The contents of this issue were Felon's Letters No. 3, by James Fintan Lalor, The Sovereign People by Padraig Pearse and Who Owns Ground Rents in Ireland? by Seamus Costelloe, a speech delivered by him to Bray Urban District Council in 1967.
Each is of specific interest, but it is probably best to quote from the Introduction in order to get a sense of the orientation of the document.
The three works which we present in this pamphlet represent the verdict of Republicanism on the nature of private property and ownership in Ireland. Both Lalor and Pearse lay down principles, which, if we relate them to our own situation, we find are still as relevant as when first expounded.
These the document argues are that 'the right of private property' is 'not applicable to private ownership in land' and it continues by asserting that 'Pearse… goes on to show that the nation's sovereignty extends overall the nation's material resources and that such sovereignty is absolute'.
It states:
And so we come to Seamus Costelloe, who draws heavily on both Pearse and Lalor in relation to the question of ground rents…
And it notes that he finds an interesting source of validation for his thesis.
Not only does he take the Republican thinkers of fifty and one hundred years ago as his guides, but also the religious authority of Pope Paul in our own day. He finds the two opinions strangely in accord with one another, and related to his own experience as a civic representative, comes to the conclusion that the political philosophy of Republicanism is still highly relevant to the Ireland of 1967.
It continues:
Nothing has happened in the eighteen months since he addressed the Bray urban District Council to change his conclusions. If anything, the recently published 'Stolen Waters', by Seamus O Tuathail, the Editor of the United Irishman, enforces the conviction that private ownership of the land and waterways is immoral and indefensible.
It concludes:
This selection of writings is intended to assist both Republicans and non-Republicans to come to a better understanding of the philosophy of Republicanism; perhaps having read these works, all will come to the conclusion that little has changed in Ireland, despite our sham independence.
Note the Civil Rights Now! printed on the back cover.
More from University Republican Clubs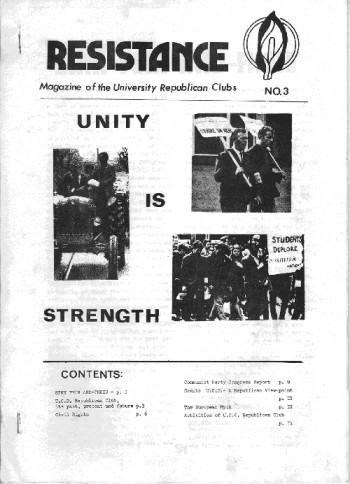 University Republican Clubs in the archive
---