Independent Socialist, May 1978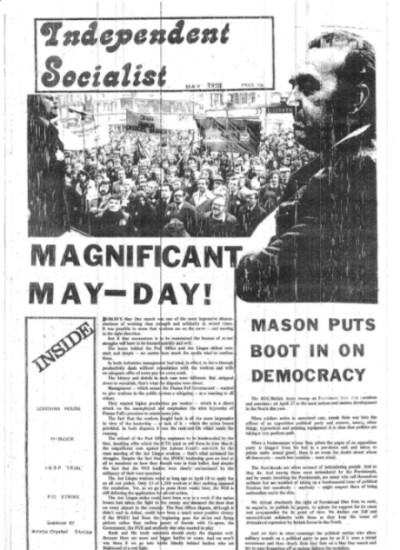 Please note:  The Irish Left Archive is provided as a non-commercial historical resource, open to all, and has reproduced this document as an accessible digital reference. Copyright remains with its original authors. If used on other sites, we would appreciate a link back and reference to The Irish Left Archive, in addition to the original creators. For re-publication, commercial, or other uses, please contact the original owners. If documents provided to The Irish Left Archive have been created for or added to other online archives, please inform us so sources can be credited.
Commentary From The Cedar Lounge Revolution
25th September 2009
We don't know if there were any more issues, how long it ran for, nor do we know who wrote for it, as none of the articles are by-lined.
As far as the Independent Socialist Party goes, prety much all we know is from John Goodwillie's article in Gralton, 1983, and from Wikipedia. ,mm ,
Goodwillie:
Independent Socialist Party – formed c.1976 as a replacement for the Irish Committee for a Socialist Programme. Known for the membership of Bernadette McAliskey it was never more then a small group and ceased to function around 1978.
Wikipedia:
The Independent Socialist Party was a far left political party in Ireland. It was founded in 1976 as a split from the Irish Republican Socialist Party named the Irish Committee for a Socialist Programme, calling for more prominent socialist politics and less emphasis on paramilitary activity. The following year, it renamed itself the "Independent Socialist Party" and was joined by former UK Member of Parliament Bernadette McAliskey.

The party entered discussions with the Socialist Workers' Movement (SWM), with the aim of forming a joint organisation, but the SWM chose instead to join the Socialist Labour Party in 1978. As a result, the Independent Socialist Party decided to disband.
Just flicking through the document it is concerned with Post Office and Aer Lingus strikes in the South, an RUC/British Army raid on Provisional Sinn Féin offices in the North ("We declare our unconditional solidarity [with PSF] as they bear the brunt of determined repression by British forces in the North").
There is an article in the Independent Socialist which asks:
Are we Republicans? No, not in the sense of traditional republicanism. We are struggling for the establishment of a WORKERS state in each and every country ie: a state in which the ownership and control of production is in the hands of the working class, organised as one in the interests of all. Only by organising in the factories, the communities and local areas can workers gain control of every aspect of their own lives. …

The ISP is not only asking awkward questions, fighting for workers' rights defending gains made over a hundred years and more of struggle, but also seeking and finding answers as to why problems exist – organising not only to protect our class against the onslaught of the system but to overthrow the system of Capitalism, to trasnform society, to establish our own system, the working class system, SOCIALISM.
So, the obvious questions ensue. How large was the ISP membership, did it hold Annual Conferences, Ard Fheiseanna, do people know if it generated a defined set of policies/documents, did it have any elected representatives at any point and so forth?
More from Independent Socialist Party
Independent Socialist Party in the archive
---