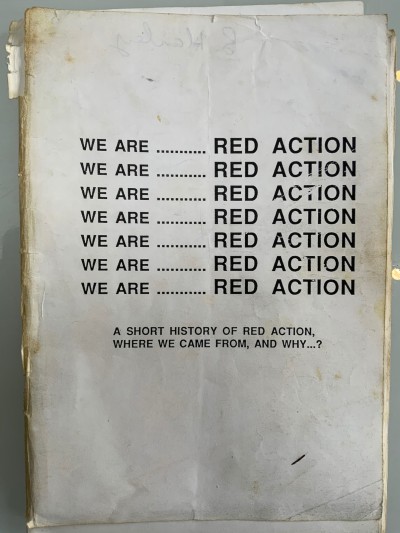 Please note:  The Irish Left Archive is provided as a non-commercial historical resource, open to all, and has reproduced this document as an accessible digital reference. Copyright remains with its original authors. If used on other sites, we would appreciate a link back and reference to The Irish Left Archive, in addition to the original creators. For re-publication, commercial, or other uses, please contact the original owners. If documents provided to The Irish Left Archive have been created for or added to other online archives, please inform us so sources can be credited.
Commentary From The Cedar Lounge Revolution
12th September 2022
Many thanks to the person who forwarded this to the Archive.
This document, although relating to Red Action in the UK, was repurposed and reprinted for Red Action Ireland. Note the Irish PO Box address on the last page. The introduction notes that:
This document is an attempt to briefly explain how the organisation Red Action came into existence. and to try and explain some of the ideas and motivations behind it.

To this end many references will be made to the organisation that its founders were formerly members of (Socialist Workers Party). However this should not be seen as an attempt to attack one particular organisation.

Most of the criticisms made are general to most left groups, and in many cases apply far more to others, but our experiences occurred in the SWP and it is to them that we must relate our story. For our part we are quite aware of the fact that without the SWP there would have been no Red Action at this time, and so we could be fairly said to be in their debt.

As to the document itself, it will be immediately noticeable to anyone with any knowledge of the history of the left in this country that the parts that deal with this subject contain many simplifications and omissions. This was done consciously and was the result of a wish not to bog down any reader that may not be familiar with this subject…

The technical quality of this document is not of a very high level. This is not because we prefer it that way, but it simply the result of the fact that we are an organisation that is constantly having to divide no finance by no resources. In this case production was achieved by what could only be described as a particularly laborious home made method.

The writing was done by one person, and so the views expressed are not necessarily held by everyone in Red Action. It can be safely assumed, however, that most of the members would endorse most of what is said.
More from Red Action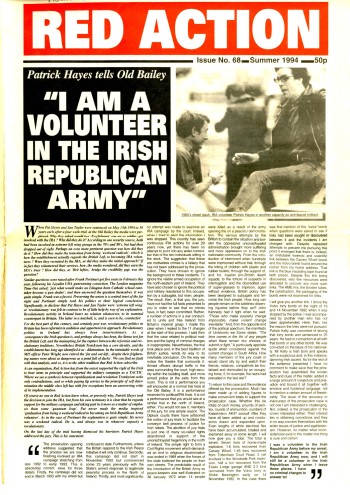 ---