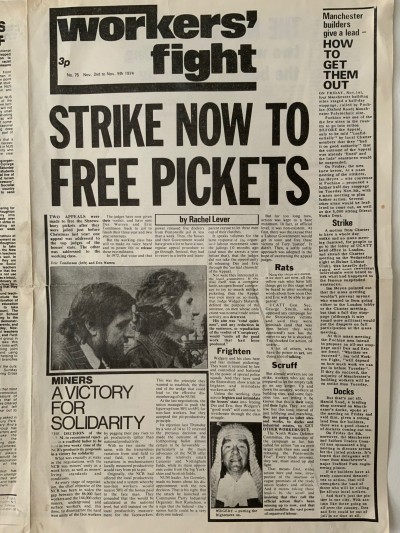 Please note: The Irish Left Archive is provided as a non-commercial historical resource, open to all, and has reproduced this document as an accessible digital reference. Copyright remains with its original authors. If used on other sites, we would appreciate a link back and reference to the Irish Left Archive, in addition to the original creators. For re-publication, commercial, or other uses, please contact the original owners. If documents provided to the Irish Left Archive have been created for or added to other online archives, please inform us so sources can be credited.
Commentary From The Cedar Lounge Revolution
29th August 2022
Workers Fight! was the publication of the Workers Fight group in Britain, which had formed in September 1967, later fusing with the International Socialists as an organised tendency. Expelled from the IS in 1971 and continued to produce Workers Fight! throughout the early 1970s, along with a theoretical journal 'Permanent Revolution'. In December 1975 the International Communist League was formed as part of a fusion of Workers Fight and Workers Power (this being the Left Tendency within IS who were expelled in October of that year). Together the new group published International Communist. However the group will be better known as the precursor for the Alliance for Workers' Liberty. A founder member of the group was Sean Matgamna, from Ennis, County Clare.
This edition of the newspaper has a strong emphasis on workplace disputes. The headline is about the Shrewsbury pickets – trade unionists whose convictions were overturned in March of last year (2021) and included amongst their number Ricky Tomlinson .
Another piece look at Miners, another again looks at the Social Contract. There's a piece on the Working Women's Charter and issues the 'national conference must address'. There's also a piece on the poet John Milton.
There is mention of Ireland and the conflict. A couple of pieces look at 'Brutal assaults at Long Kesh' under the banner 'Repression Worsens in Ireland' Another headed 'Curragh Warning' argues 'Watch out for the round-up of militants'.
Get your trade union or Labour Party, tenants association or trade council to join the growing number of those who say: Get the British out of Ireland. They have no right to be there!
---