Stop the Robbery of Ireland's Mineral Wealth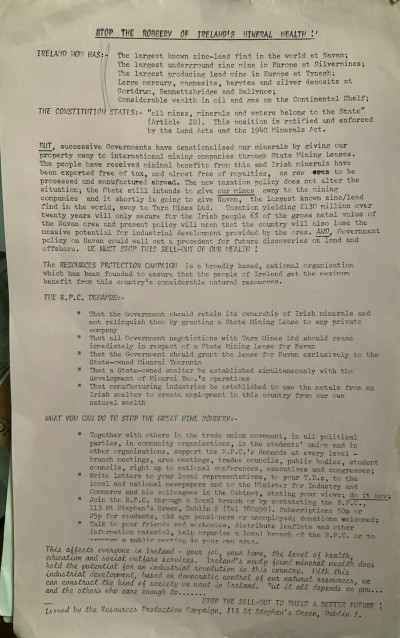 Please note: The Irish Left Archive is provided as a non-commercial historical resource, open to all, and has reproduced this document as an accessible digital reference. Copyright remains with its original authors. If used on other sites, we would appreciate a link back and reference to the Irish Left Archive, in addition to the original creators. For re-publication, commercial, or other uses, please contact the original owners. If documents provided to the Irish Left Archive have been created for or added to other online archives, please inform us so sources can be credited.
Commentary From The Cedar Lounge Revolution
15th August 2022
Many thanks to the person who donated this to the Left Archive.
This short document entitled 'Stop the Robbery of Ireland's Mineral Wealth' outlines on a single page facts about Ireland's mineral wealth. It also notes the constitutional position of that mineral wealth but points to the fact that successive governments have leased to private enterprises mines.
The document explains that the RPC 'is a broadly based, national organisation which has been founded to ensure that the people of Ireland get the maximum benefit form this country's considerable natural resources.
It outlines the demands of the RPC, inducing retention of ownership of Irish minerals, and a prohibition on leasing this to private companies; the end of negotiations with Tara Mines Ltd.; the extension of a lease to Mianrai Two.'s – the state owned enterprise; the development of a state owned smelter; the development of manufacturing industries to use metals from Irish mines.
It points to what those reading this can do – most immediately by supporting the RPC, as well as writing to local representatives, talking to friends and workmates and organising public meetings.
And states 'STOP THE SELL-OUT TO BUILD A BETTER FUTURE!'.
More from Resources Protection Campaign
Resources Protection Campaign in the archive
---