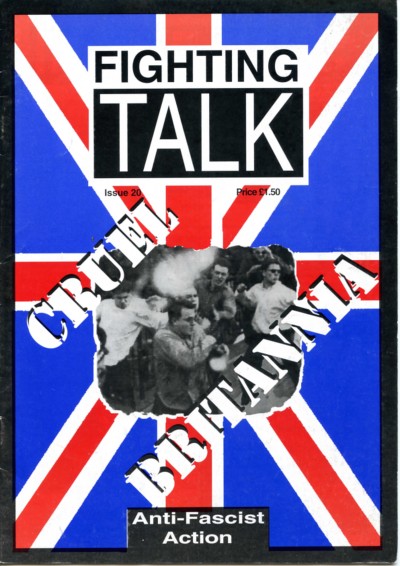 Please note:  The Irish Left Archive is provided as a non-commercial historical resource, open to all, and has reproduced this document as an accessible digital reference. Copyright remains with its original authors. If used on other sites, we would appreciate a link back and reference to The Irish Left Archive, in addition to the original creators. For re-publication, commercial, or other uses, please contact the original owners. If documents provided to The Irish Left Archive have been created for or added to other online archives, please inform us so sources can be credited.
Commentary From The Cedar Lounge Revolution
8th August 2022
Many thanks to the person who forwarded this to the Archive.
This document is an interesting addition to the Archive, not least because it provides a comparison with its ally AFA Ireland (see here in the Archive) and also because it also contains some material relating to Ireland. The magazine contains contacts for AFA across Britain and Scotland and Wales and Ireland too.
The magazine has a range of informative articles on 'Tackling Fascism at Football', 'International News', 'Race Attacks and 'Anti-Racism", 'The History of Cable Street Beat', an examination of how the 'Mainstream Media Tackles Fascism' and 'Anti-Fascist History: Canada in the 30s. There are also reviews and letters.
There's a full page on Ireland: Anti-Racism March, noting that AFA in Ireland were 'joint organisers of 1,000 plus No-Racism-No Deportations' demonstration in Dublin on April 25th 1998. It notes that:
As usual AFA concentrated on getting the message into working class areas. Racial tension is getting worse in these areas all the time. The lethal combination of the government housing large numbers of refugees in the deprived areas and the media myths about asylum seekers getting more money on the dole and better welfare entitlements is bound to lead to increased conflict in these areas.
Note the Join AFA box on the second page:
In the fight against fascism in Britain, Anti-Fascist Action has a record that is second to none. Our unique combination of physical confrontation and ideological struggle has produced results time and again.

We say no platform for fascists – no meetings, no marches, no paper sales, no leafleting – and we mean it, as the fascists know only too well. Our aim is to cause the maximum disruption to fascist activities.

But that doesn't mean that AFA only needs street-fighters. Far from it. Everyone has a role to play in AFA, whether they feel confident in physical confrontations or not.

None of our successes in physically confronting the fascists would have been possible without the contribution of non-combatants. From legal observers to scouts, from leafleters to people who can write articles or speak at meetings, AFA needs people with a whole range of skills if it is to continue to succeed.

There's a lot to do, so don't wait around. Join today.

Contact your local group for affiliation rates and activities.
---