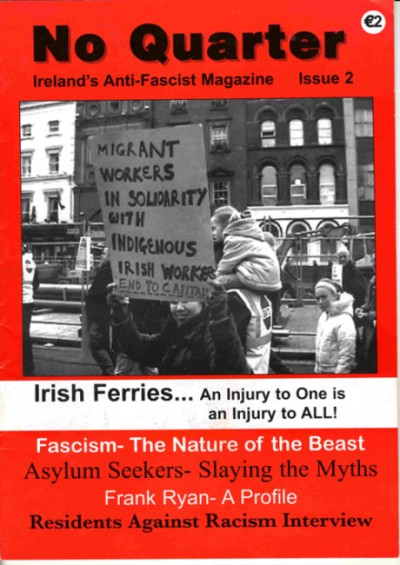 Please note:  The Irish Left Archive is provided as a non-commercial historical resource, open to all, and has reproduced this document as an accessible digital reference. Copyright remains with its original authors. If used on other sites, we would appreciate a link back and reference to The Irish Left Archive, in addition to the original creators. For re-publication, commercial, or other uses, please contact the original owners. If documents provided to The Irish Left Archive have been created for or added to other online archives, please inform us so sources can be credited.
Commentary From The Cedar Lounge Revolution
21st March 2011
Issued by Anti-Fascist Action in 2005 this reasonably well produced magazine has a broad range of material. Articles range from one remembering Kit Conway, Spanish Civil War veteran to interviews with Residents Against Racism and pieces on the situation at Irish Ferries. This is indicative of a strongly left wing emphasis to the document, and also indicative of the broader political stance of those involved in AFA.
That the identity of the organisation itself is somewhat opaque, with the only contact details being a PO box, and the AFA website , perhaps indicates the sensitivity of activism in this area.
The editorial which was written during a period following the 2002 election and during which there appeared to be some political instability suggests that:
Since we last went to print, the political landscape has altered quite dramatically. While huge changes have taken place in the nature and scale of inward migration, for example, many of the same challenges that existed for anti-racists and anti-fascists in 2002 persist today. Deportations and state harassment of non-EU citizens have, if anything, become more widespread and vicious in the intervening period. Dawn raids on the homes of immigrants by the Gardai and our own brand of 'rendition flights' of these immigrants back to their own countries of origin are now more commonplace than ever.
It notes that:
The macroeconomic arguments about our country's labour needs into the future lie beyond AFA's remit and in any case cannot be predicted with any degree of accuracy. However, what does concern us is the degree of opportunism being displayed at present in relation to theories of 'displacement' of Irish workers by foreign ones. Apart from the fact that the statistics don't bear this out, certain politicians hope to gain mileage by playing to the gallery with misleading anecdotes of occasions when this has happened.
It also notes that:
It is clear that the pro-establishment parties are on an election footing. While AFA has never been under any illusion that the Labour Party especially represents working class interests, it is still telling when even they are flagging the canard of future threat of foreign displacement. With the prodding of their paymasters in ICTU and the main pro-establishment unions, Labour are now cynically and for their own ends hoping to appeal to their 'Old Labour' base while relentlessly pursuing 'New Labour' policies.
There's an overview of John Tyndall, the British fascist which is entitled 'A Lifetime of Failure' and other pieces on Russian Nazis and Frank Ryan.
A useful addition to the Archive.
More from Anti-Fascist Action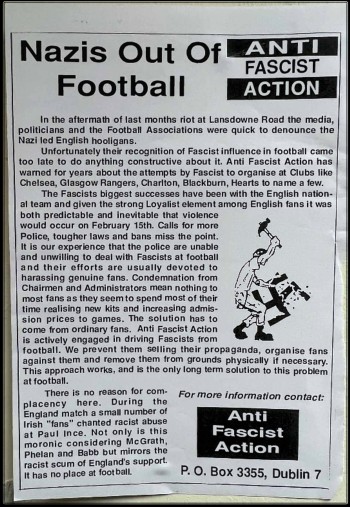 Anti-Fascist Action in the archive
---