The United Irishman, Vol. 23, No. 9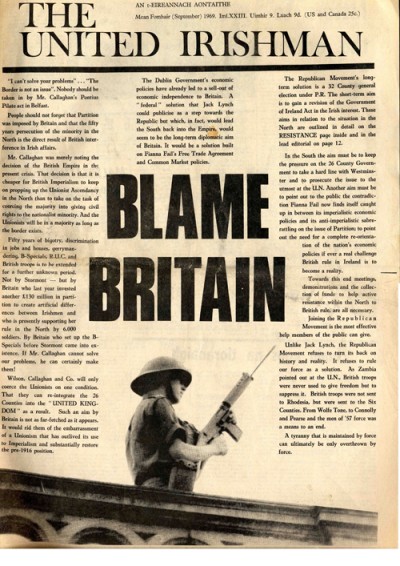 Please note:  The Irish Left Archive is provided as a non-commercial historical resource, open to all, and has reproduced this document as an accessible digital reference. Copyright remains with its original authors. If used on other sites, we would appreciate a link back and reference to The Irish Left Archive, in addition to the original creators. For re-publication, commercial, or other uses, please contact the original owners. If documents provided to The Irish Left Archive have been created for or added to other online archives, please inform us so sources can be credited.
Commentary From The Cedar Lounge Revolution
31st August 2009
This is a day early, but in terms of its scope it deals directly with the events of August 1969 and therefore seems appropriate for this month-long series of documents relating to that time. It is quite forensic in its analysis with maps of the events and an article on Page 4, 'How Belfast Fought'. The reference to the IRA in this context is instructive…
As the RUC and Specials launched attacks on the barricades guarding the Falls area gunfire was returned for the first time from within the Catholic area. IRA firing continued until all ammunition was spent, according to reports. Weak though it was in comparison to that of the combined UVF, RUC and B-Special forces, the IRA firepower slowed up the advance of the rampaging mobs and helped to hold vital barricades and refugee centres. The full story of the IRA part in the defence has yet to be told, however.
The IRA statement issued by Cathal Goulding in August 1969 is reprinted in full.
The editorial on the back page is worth careful study for its articulation of 'Republican demands' and a fascinating closing paragraph headed "The Christian Thing".
In sum this is clearly a document that was issued seeking to shore up support for the Republican Movement and the IRA from all its strands. Perhaps evidence of that last can be found in the lyrics of "The Belfast Brigade" (Air: Glory, Glory, Halleluiah) which might give some pause for thought…
"When the orange mobs from Shankill came to shoot the people down, They thought the IRA was dead in dear old Belfast town, But Paisley's bloody gangsters were with bombs and bullets faced, When they met the brave battalions of the Belfast Brigade."
And finally, given that we don't have the August edition of the United Irishman in the Archive, what of the mention in this issue of a letter from Eamonn McCann in the previous edition? Would that we had a copy of that edition. Interesting reading no doubt.
More from The United Irishman
The United Irishman in the archive
---