Gay Community News, December 1992/January 1993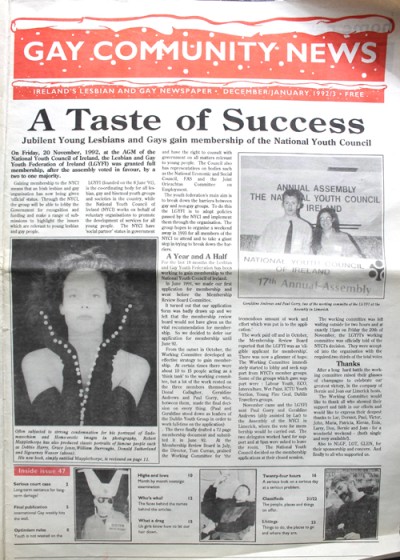 Please note:  The Irish Left Archive is provided as a non-commercial historical resource, open to all, and has reproduced this document as an accessible digital reference. Copyright remains with its original authors. If used on other sites, we would appreciate a link back and reference to The Irish Left Archive, in addition to the original creators. For re-publication, commercial, or other uses, please contact the original owners. If documents provided to The Irish Left Archive have been created for or added to other online archives, please inform us so sources can be credited.
Commentary From The Cedar Lounge Revolution
25th June 2012
This issue of Gay Community News, albeit somewhat unseasonable, is appropriate given the arrival of Dublin Pride this week. And in terms of political content, dating as it does from late 1992 after the then General Election it has an useful overview of the position of the Irish political parties then represented in the Dáil, written by Suzy Byrne (latterly of Maman Poulet ), which considered the attitude of the political parties represented in the Dáil on LGBT issues.
But it's also useful as a indicator of change in the society in the 1990s. For example the front page heralds the success of the Lesbian and Gay Youth Federation of Ireland being granted full membership of the National Youth Council of Ireland - something that as GCN notes 'means that an Irish lesbian and gay organisation has now being given 'official' status'.
Some other points of interest are the reference to the availability of condoms, in the article on how colleges defied the laws restricting the introduction of condom vending machines. That too speaks of a significant change. And there's also a report on how the Physical Education Association of Ireland (PEAI) 'passed a motion objecting in the strongest possible terms, to the statement by the Vatican, this July, specifically with relation to the employment of homosexuals in the area of games education'. As the article noted 'The PEAI has 350 members and is the representative body of physical education professionals in Ireland. Most of the members are PE teachers in second level schools in Ireland'.
All told another fascinating read from GCN highlighting the political aspect of LBB&T activism during that period of time.
Also included is Munster's Lesbian & Gay Community News which includes glowing words about Jim Kemmy and Noel Browne and an editorial which notes that 'As we go to press we learn that the party which put lesbian and gay reform on "the bottom of our agenda" - Fianna Fáil has been put at the bottom of the voters agenda'.
More from Gay Community News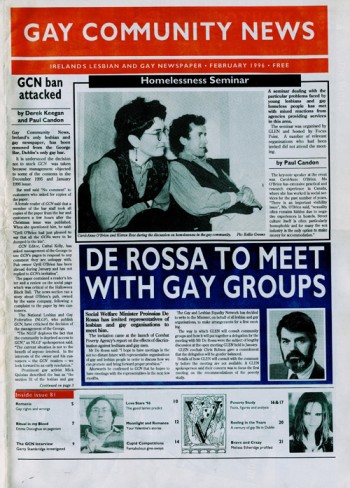 Gay Community News in the archive
---