Gay Community News, February 1996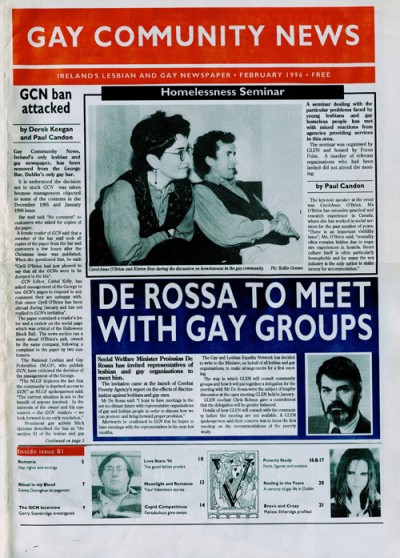 Please note:  The Irish Left Archive is provided as a non-commercial historical resource, open to all, and has reproduced this document as an accessible digital reference. Copyright remains with its original authors. If used on other sites, we would appreciate a link back and reference to The Irish Left Archive, in addition to the original creators. For re-publication, commercial, or other uses, please contact the original owners. If documents provided to The Irish Left Archive have been created for or added to other online archives, please inform us so sources can be credited.
Commentary From The Cedar Lounge Revolution
5th March 2012
Many thanks to the person who donated this to the Archive. It is a document representing a strand of political activity which has been lacking from the Archive on its own terms, albeit some of the formations represented in the Archive have placed LGBT rights and attendant issues as a significant part of their political policies. Posting this is also appropriate given that this is the week of STAND UP! LGBT awareness week .
Gay Community News, although not avowedly party political, provides a strongly political platform for LGBT people in the issue selected here. Founded in February 1988 it followed two earlier magazines called Identity published by NGF from 1981 to 1984 a magazine titled Out from 1984 to 1988 [and if copies of those are available to be scanned for the Archive they'd be very welcome].
The front cover which announces that then Minister Proinsias De Rossa had invited representatives of lesbian and gay organisations to met him on foot of the publication of the Combat Poverty Agency's report on the effects of discrimination against lesbians and gay men. The Gay and Lesbian Equality Network took a lead role in arranging this, and it is interesting to read that at the open meeting of GLEN held earlier that year a commitment for a gender balanced delegation was given.
Then there is a report on how the RUC had adopted a charter on policing of the lesbian and gay community. And while the RUC press office refused to comment, members of the Northern Ireland Gay Rights Association noted that the RUC had participated in a conference organised by the Greater Manchester Lesbian and Gay Policing Initiative along with other police forces and signed up.
Then there's reference to how the Equal Status Bill, then being shepherded through by Equality and Law Reform Minister Mervyn Taylor might be 'watered down'.
The centre pages are devoted to the findings of the CPA/GLEN report and it makes for interesting reading, not least as one headline puts it 'Debunking the rich myth' of gay people as 'rich: single or double incomes, no kids'. It paints a much more realistic and sobering picture of a community reflecting the general class and income stratification within the society, but also impacted by the very specific nature of some aspects of the lesbian and gay experience, such as issues with families in relation to coming out and so on. It points directly at 'the fear of hostility or rejection [which] can result in isolation. The physical and psychological distress caused by this can hinder school or work performance and falling behind in this results in lower job prospects which in the long term means falling down the employment ladder'. And the study points to the issues in engaging with services and the stresses and health issues that this can generate as well as the impact of HIV and AIDS.
There is the finding that 'encouragingly, 62% felt that recent law reforms will have a positive effect on their lives'. But in terms of harassment and violence '25 % had been punched, beaten, hit or kicked because they were assumed to be lesbian or gay'. So a community that while increasingly public still met resistance and on occasion outright hostility. [It still meets that resistance and hostility today - a 2009 study  found 80 per cent of Irish lgbt people had experienced verbal abuse and a quarter had experienced physical violence as a result of their lgbt identification.]
It's also useful to note the way in which GCN is structured with specific lesbian pages, health and lifestyles, mediawatch, arts pages and interviews. Amongst the latter is one with Gerry Stembridge on his then latest play The Gay Detective.
Indeed it's reasonable to point to the breadth of material addressed throughout. There is a strong sense of this as a part of a community with the aspects of that community addressed, from political, social and through to cultural. It is also an artefact which points to later milestones along the way in the narrative of the LGBT community in Ireland. For example - the person who donated it notes that 'On page 15 is Dyke's Corner. If my memory is correct, the author went on to be half of the first UK civil partnership, in Belfast'. And consider the letters page on p.27 which carries a letter on a 'sociological study of lesbian and gay men with children as families in Ireland'. It's worth noting how much and how little has changed in relation to issues of equality in various areas and how some issues remain unresolved. But the overall picture is of an enthused and engaged publication.
It is this which - perhaps - sets it apart from most of the material in the Archive, the sense that it links into the lives of those it is directed to.
But change has taken perhaps unexpected turns. 'Page 28 / 29 [Classifieds] is a sign of how things were. Today's magazine - still monthly - cannot attract the same volume of classified adverts because the internet has taken over that business'. As was pointed out to me interesting that GCN was sponsored by Fás.
In sum, a fascinating and timely addition to the Archive.
More from Gay Community News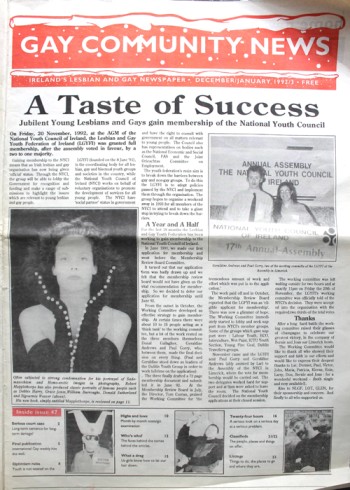 Gay Community News in the archive
---