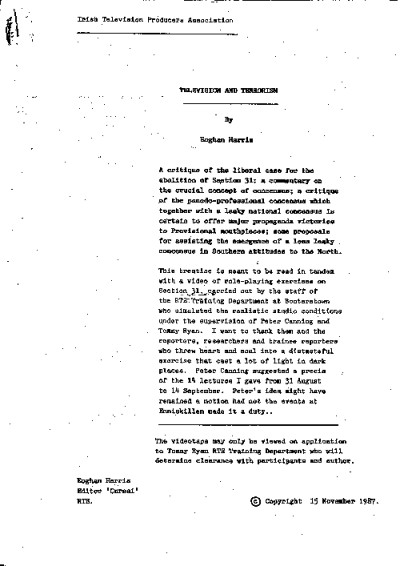 Please note:  The Irish Left Archive is provided as a non-commercial historical resource, open to all, and has reproduced this document as an accessible digital reference. Copyright remains with its original authors. If used on other sites, we would appreciate a link back and reference to The Irish Left Archive, in addition to the original creators. For re-publication, commercial, or other uses, please contact the original owners. If documents provided to The Irish Left Archive have been created for or added to other online archives, please inform us so sources can be credited.
Commentary From The Cedar Lounge Revolution
23rd January 2012
This is a document written by Eoghan Harris in 1987 as a 'critique of the liberal case for the abolition of Section 31'. Although not explicitly positioned within a left discourse Harris was at that time still a member of the Workers' Party - despite the WP taking an anti-Section 31 line, and his thoughts had some currency during the period.
It argues on the first page that it is 'a commentary on the crucial concept of concensus(sic); a critique of the pseudo-professional concensus which together with a leaky national concensus is certain to offer major propaganda victories to Provisional mouthpieces'
And it continues that it contains: 'some proposals for assisting the emergence of a less leaky concensus in Southern attitudes to the North'
It notes that:
This treatise is meant to be read in tandem with a video of role-playing exercise on Section 31 carried out by the staff of the RTE Training Department at Booterstown who simulated the realistic studio conditions…
The document takes as its starting position the idea that there are three groups who wished to lift Section 31. Firstly 'a tiny tantrum of liberals who believe all censorship is wrong… There is nothing printable I have to say to them'; Secondly 'Hush puppy broadcasters who think the abolition of Section 31 will do the Provos a lot of good' and finally 'the majority of honest broadcasters… Who believe that abolishing S31 would expose the Provisional case…'.
He writes:
The first fact of life is that Mr. Gerry Adams appears regularly on the BBC and UTV and nobody has yet made bits of him. The second is that the Provos are very anxious to lift S31 which hardly argues any fear of being reduced to smithereens. The third is that there is no possibility of the Provos ever being exposed on television as long as the National Concensus leaks like a sieve and we have no adequate theory of television. This has nothing to do with the Provos having a good case. The Provos admitted themselves that they had no case after Enniskillen. The point I wish to make and that is reinforced by the videotape is: A Provo spokesperson could appear one hour after Enniskillen and without any defence of that particular case, win support for the Provos general cause provided the spokesperson exploited the professional and national concensus which governs the praxis of production in RTE.
Subsequently Harris wrote in the Sunday Independent that:
…far from being furtive, our advocacy of Section 31 was carried on openly among RTE trade union members and was the subject of a document - which I publicly circulated to my producer and union colleagues in 1987 called Television and Terrorism - and which is never mentioned by certain commentators. Irish Independent 
And also, in a response to Caomghin O Caolain SF TD:
Let us hope Deputy O Caolain's charges against Deputies O'Dea and Hayes are more accurate than his reference to my 1987 RTE document, Television and Terrorism. Deputy O Caolain inaccurately describes as an "internal paper distributed by Harris in RTE and subsequently leaked" (my italics). Far from it being "leaked", I printed off hundreds of copies of the document, circulated them to colleagues all over RTE, sent copies to all political correspondents, and generally looked for, and got lots of publicity for its central political prediction which, of course, turned out to be correct that if Section 31 were lifted the Provos would walk all over RTE reporters, especially those who were "hush puppies". At the time, my document was reviewed at length by Conor Cruise O'Brien in his widely read Saturday column in the Irish Independent. I am told there is even a copy in the Linenhall Library, and that it used to be regularly consulted by republicans anxious to pick up media tips. Some leak! Irish Independent 
So clearly, by his own words, this document was intended for public distribution and review.
Whether one is convinced or not by the argument presented it is made in a distinctly forceful style.
---