Bill of Rights (Northern Ireland) Act 1975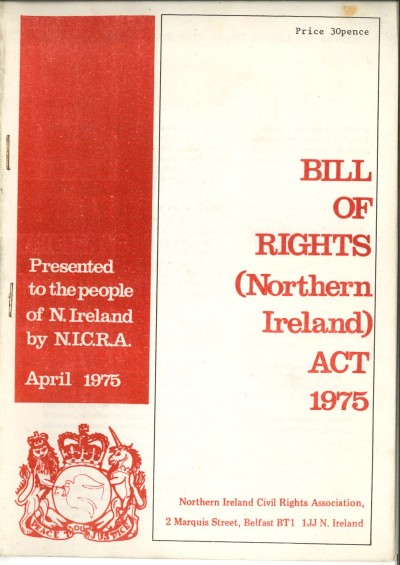 Please note:  The Irish Left Archive is provided as a non-commercial historical resource, open to all, and has reproduced this document as an accessible digital reference. Copyright remains with its original authors. If used on other sites, we would appreciate a link back and reference to The Irish Left Archive, in addition to the original creators. For re-publication, commercial, or other uses, please contact the original owners. If documents provided to The Irish Left Archive have been created for or added to other online archives, please inform us so sources can be credited.
Commentary From The Cedar Lounge Revolution
18th October 2021
Many thanks to the person who donated this to the Archive.
This is a particularly interesting document, issued by NICRA in 1975, on foot of their proposed Bill of Rights (Northern Ireland) Act 1975. In the first number of pages of this pamphlet they list the references to 'Bills of Rights' proposed by others from the Republican Clubs, Communist Party of Ireland, Alliance Party, Ulster Unionist Party and many others.
It also quotes Lord Scarman saying the previous year, 'Without a Bill of Rights protected from repeal, amendment, or suspension by the ordinary processes of a bare Parliamentary majority controlled by the government of the day, human rights will be at risk'.
The Foreword argues that:
Since 1968, the subject of the necessity for a Bill of Rights for Northern Ireland, has been raised fairly regularly, particularly by NICRA. On two occasions a Bill has even been introduced at Westminster, as Private Members measures. This measure has from the beginning been supported by the British TUC and the Northern Committee of the ICTU.
And it notes that at the time of publication there had been 'many more political parties, politicians and other organisations stating that NI must have a Bill of Rights'. It outlines four areas that must be addressed:
Guarantee the freedom for political thought and activity for all citizens in N. Ireland.

Guarantee the end of all repressive laws, which breach common law and contravene international human rights legislation.

Guarantee the outlawing of discrimination against any citizen for reason of belief, religion, politics, sex, race or colour.

Guarantee the establishment of law enforcement agencies acceptable to the overwhelming majority of the citizens.
The rest of the pamphlet outlines the proposed Bill in full detail, under headings such as Preliminary; Fundamental Rights & Freedoms; and Enforcement. It also includes a schedule noting that the Race Relations Act 1968 'shall have effect subject to the following amendments' which are 'after the word 'race' the words 'religious belief" and 'after the word 'discrimination' there shall be added the words 'except on the grounds of religious belief alone'.
More from Northern Ireland Civil Rights Association
Northern Ireland Civil Rights Association in the archive
---