Feedback: Workers Party Youth Members News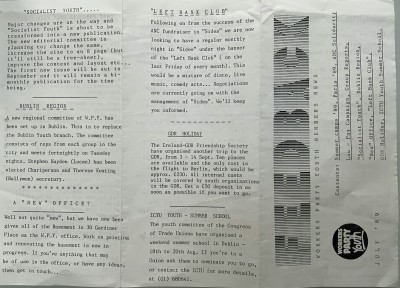 Please note:  The Irish Left Archive is provided as a non-commercial historical resource, open to all, and has reproduced this document as an accessible digital reference. Copyright remains with its original authors. If used on other sites, we would appreciate a link back and reference to The Irish Left Archive, in addition to the original creators. For re-publication, commercial, or other uses, please contact the original owners. If documents provided to The Irish Left Archive have been created for or added to other online archives, please inform us so sources can be credited.
Commentary From The Cedar Lounge Revolution
4th October 2021
This short document was issued by Workers Party Youth for members in 1989. Across two pages it includes pieces on Summer Camps '89, ANC Solidarity, Low-Pay Campaign, Group Reports, GDR Holiday and ICTU Youth Summer School.
It notes that 'following on from the success of the ANC Fundraiser in 'Sides' we are now looking to have a regular monthly night in 'Sides' under the banner of the 'Left Bank Club' (on the last Friday of every month). This would be a mixture of disco, live music, comedy acts… negotiations are currently going on with the management of 'Sides'. We'll keep you informed.
There is mention of the fact that WPY 'has been given all of the Basement in 30 Gardiner Place as the WPY office. Work on painting and renovating the basement is now in progress. If you've anything that may be use in the office, or have any ideas, then get in touch.'
There is also mention that 'Socialist Youth', the youth publication of the WPY is about to be 'transformed into a new publication'.
A trip organised by the Ireland-GDR Friendship Society for September of 1989 is publicised with flights to Berlin being the only cost at £230 with all 'internal costs covered by youth organisations in the GDR'.
More from Workers Party Youth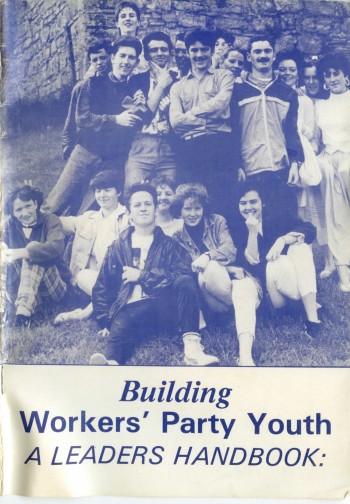 Workers Party Youth in the archive
---