Marxist Study Guide: James Connolly and the Easter Rising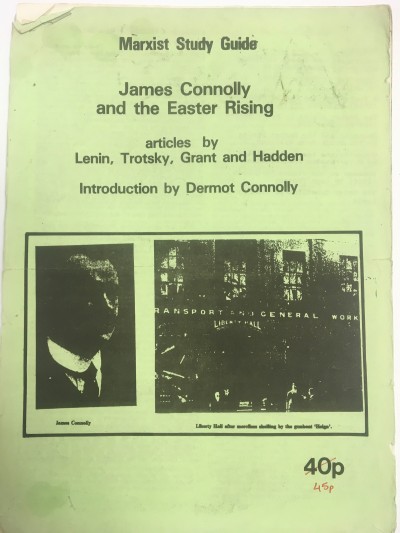 Please note:  The Irish Left Archive is provided as a non-commercial historical resource, open to all, and has reproduced this document as an accessible digital reference. Copyright remains with its original authors. If used on other sites, we would appreciate a link back and reference to The Irish Left Archive, in addition to the original creators. For re-publication, commercial, or other uses, please contact the original owners. If documents provided to The Irish Left Archive have been created for or added to other online archives, please inform us so sources can be credited.
Commentary From The Cedar Lounge Revolution
6th September 2021
Many thanks to the person who forwarded this to the Archive.
This is an useful addition to the Archive, dating from 1987, a Marxist Study Guide, issued under the broad Irish Militant umbrella with an introduction written by Dermot Connolly on James Connolly, articles by Lenin on 'Class War in Dublin (1913)' and 'A Week after the Dublin Massacre (1916)', 'The Easter Rising' by Peter Hadden, 'Connolly and the Easter Rising' by Ted Grant, 'Connolly and the Easter Rising by Peter Hadden, 'Lessons of the events in Dublin (1916)' by Trotsky and 'The Irish Rebellion of 1916' by Lenin.
The Introduction is of particular interest, arguing that 'The Protestant working class will never accept a capitalist United Ireland. On the other hand the Catholic population have never, and will never, accept the sectarian state in the north. There is no solution within the confines of capitalism'. And 'Left leaders like Tony Benn in Britain could do well to study the writings of James Connolly. To simply argue for a united Ireland is to adopt a non-class position in the real concrete conditions which exist.'
And the article suggests that 'There is only one demand, which if taken up and campaigned for by the labour movement throughout these islands, can pose a solution – for a socialist United Ireland, linked to a socialist Britain, in a socialist federation of Britain and Ireland'.
Noteworthy are the questions for discussion on the last page which include the following:
Haven't the workers in Ireland always been divided by religion?

If Ireland was an important colony, why did the Liberal Government of the day propose 'home rule' for Ireland in 1913?

Didn't the 1916 Proclamation show that Connolly accepted that the national liberation struggle came before the struggle for socialism?
More from Militant
---