Venceremos, Vol. 1, No. 1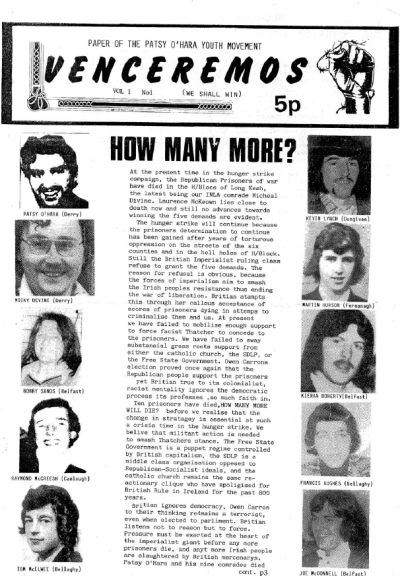 Please note:  The Irish Left Archive is provided as a non-commercial historical resource, open to all, and has reproduced this document as an accessible digital reference. Copyright remains with its original authors. If used on other sites, we would appreciate a link back and reference to The Irish Left Archive, in addition to the original creators. For re-publication, commercial, or other uses, please contact the original owners. If documents provided to The Irish Left Archive have been created for or added to other online archives, please inform us so sources can be credited.
Commentary From The Cedar Lounge Revolution
4th July 2011
This document dating from 1981 at the height of the Hunger Strikes was issued by the Patsy O'Hara Youth Movement, youth organisation of the Irish Republican Socialist Party . The date this was issued was sometime prior to September 1981 when hunger striker Laurence McKeown's family intervened to seek medical attention for him.
As the document notes:
All articles in this paper have been written by members of the Patsy O'Hara youth movement. Anyone wishing to contribute any articles, songs, poems or drawings should send them to the IRSP office.
It continues:
This paper is written solely by youth for youth to read. We hope it helps youth organise independently in a political way to resist British imperialism. Anyone wishing to join the youth movement should contact the I.R.S.P. Office.
There is a selection of articles in the four page document. The central focus is, naturally, on the hunger strikes and on those who had died and the lead article is entitled 'How Many More?'. There is a letter from Patsy O'Hara's brother Tony who at the time was jailed in the H-Blocks. There's also a short piece on 'Imperialism in El Salvador and Northern Ireland' which lists various state and loyalist organisations and classifies them according to whether they are 'sectarian', 'fascist' or 'imperialist'. There's also a piece on UK based fascists who attacked Asian residents in Southall and the subsequent riot.
One small aspect of interest, there is only one passing reference to other Republican formations with mention of 'INLA-PIRA'.
An useful addition to the Archive and many thanks to the person who forwarded this.
---