James Connolly and the struggle for Marxism in Ireland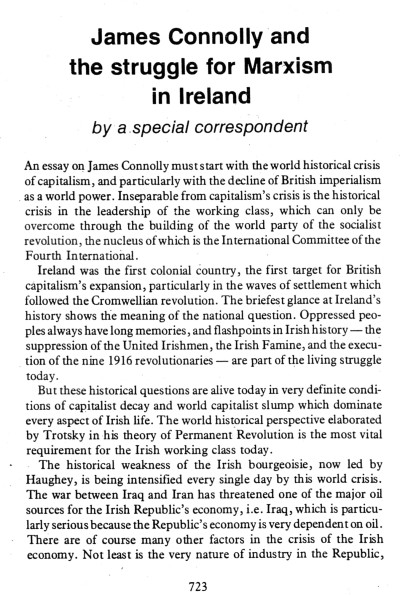 Please note:  The Irish Left Archive is provided as a non-commercial historical resource, open to all, and has reproduced this document as an accessible digital reference. Copyright remains with its original authors. If used on other sites, we would appreciate a link back and reference to The Irish Left Archive, in addition to the original creators. For re-publication, commercial, or other uses, please contact the original owners. If documents provided to The Irish Left Archive have been created for or added to other online archives, please inform us so sources can be credited.
Commentary From The Cedar Lounge Revolution
22nd November 2010
Many thanks to Mervyn Crawford for the following document.
The piece is taken from The Labour Review, monthly journal of the Workers Revolutionary Party. The Labour Review first existed as a fairly highly regarded, from what one can tell, theoretical journal of the Socialist Labour League, a precursor of the WRP. In the 1960s it appears to have been replaced by other publications, but the name was resurrected later by the WRP during the 1970s and 1980s. This particular document appears to date from around 1980/1981 due to references to the Iran/Iraq War.
The WRP itself was one of the more controversial further left formations in the UK,  but it's important to note the direct connection with Ireland in the shape of its founder, Gerry Healy, who haled from Galway (indeed an interesting subject for further research might well the be influence of Irish born individuals on the shape of the UK further left and just why quite a number achieved some prominence).
The Left Archive already has a piece of documentation from the WRP itself  and the WRP linked Workers League  and an interesting analysis critiquing the involvement of the SLL/WRP in Irish Marxism from the League for a Workers' Republic.  
As Mervyn notes 'The essay is long enough to speak for itself' and as a spring board for discussion of the questions it raises (it is perhaps however worth noting that the article does touch tangentially on the concerns of the WRP in relation to a number of then contemporary issues).
---