People Power Will Scrap the Bin Tax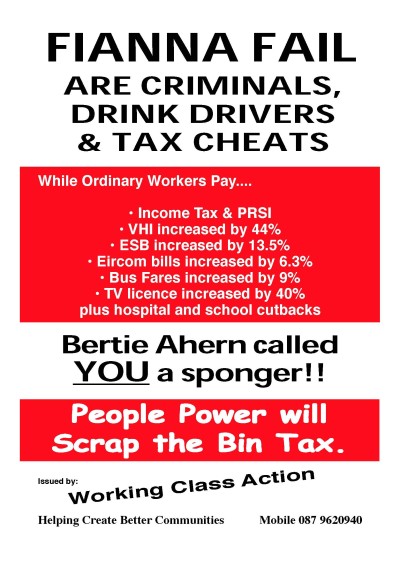 Date:
2001 c.
Organisation:

Working Class Action

View:
View Document
Front text:

Fianna Fáil are criminals, drink drivers & tax cheats.

While ordinary workers pay…

Income Tax & PRSI
VHI increased by 44%
ESB increased by 13.5%
Eircom bills increased by 6.3%
Bus fares increaed by 9%
TV license increased by 40%

plus hospitals and school cutbacks

Bertie Ahern called YOU a sponger!
People Power will Scrap the Bin Tax.
Issued by: Working Class Action
Helping Create Better Communities

Discuss:
Comments on this document
Subjects:
 Anti-Bin Tax Campaign   
Please note:  The Irish Left Archive is provided as a non-commercial historical resource, open to all, and has reproduced this document as an accessible digital reference. Copyright remains with its original authors. If used on other sites, we would appreciate a link back and reference to The Irish Left Archive, in addition to the original creators. For re-publication, commercial, or other uses, please contact the original owners. If documents provided to The Irish Left Archive have been created for or added to other online archives, please inform us so sources can be credited.
Commentary From The Cedar Lounge Revolution
15th December 2014
Many thanks to Alan of Irish Election Literature  for forwarding the following to the Archive – part of a collection of new documents we'll be posting up in the next weeks and months.
This poster is the first printed material from Working Class Action to be added to the Archive. Working Class Action was extremely active in the North Inner City of Dublin from the late 1990s through to the 2000s on a range of issues including those against Bin charges. Members of WCA were also involved in Anti-Fascist Action.
Cieran Perry, now an Independent left-wing councillor, ran for WCA at the 2004 local elections, as did local activist Joe Mooney. Any other materials from WCA gratefully accepted.
---