Workers Unity – Only Way Forward!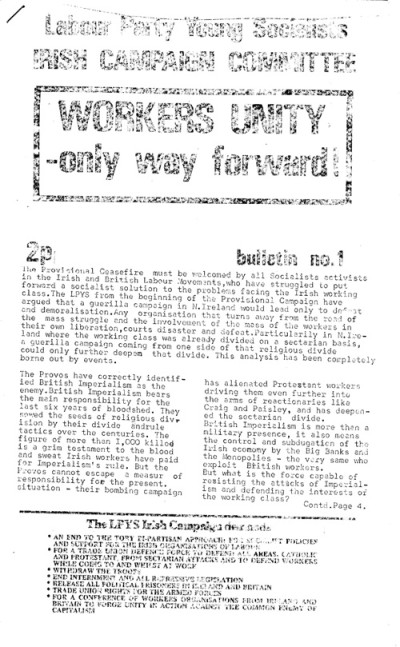 Please note:  The Irish Left Archive is provided as a non-commercial historical resource, open to all, and has reproduced this document as an accessible digital reference. Copyright remains with its original authors. If used on other sites, we would appreciate a link back and reference to The Irish Left Archive, in addition to the original creators. For re-publication, commercial, or other uses, please contact the original owners. If documents provided to The Irish Left Archive have been created for or added to other online archives, please inform us so sources can be credited.
Commentary From The Cedar Lounge Revolution
2nd August 2010
Many thanks to Jim Monaghan for this document. Originating with the Labour Party Young Socialists and dating from the early 1970s this document is notable because the LPYS, the youth section of the British Labour Party, was effectively a part of the Militant Tendency within the Labour Party during most of the late 1960s and 1970s and through to the 1980s. The document itself was issued by the LPYS Irish Campaign Committee and deals with the conflict in Ireland. But a brief perusal of this short four page text would, from the policy positions adopted centre it within Militant thinking on the issue.
Under the headline "Workers Unity - only way forward!" it gives an analysis of the situation that welcomes 'the Provisional Ceasefire". It continues that the LPYS...
'from the beginning of the Provisional Campaign have argued that a guerilla campaign in N.Ireland would lead only to defeat and demoralisation. Any organisation that turns away from the road of the mass struggle and the involvement of the workers in their own liberation, courts disaster and defeat. Particularly in N.Ireladn where the working class was already divided on a sectarian basis, a guerilla campaign coming from one side of that religious divide could only further deepen that divide".
The stated aims of the LPYS Irish Campaign are:
• An end to the Tory Bi-Partisan Approach: For Socialist Policies and support for the Irish organisations of Labur. • For a Trade Union Defence Force to defend all Areas, Catholic and Protestant, from sectarian attacks and to defend workers while going to and while at work. • Withdraw the Troops • End Internment and all repressive legislation • Release all political prisoners in Ireland and Britain • Trade Union rights for the Armed Forces • For a Conference of Workers Organisation from Ireland and Britain to forge unity in Action against the common enemy of capitalism
The rest of the document deals with Unemployment - North and South, Housing in Northern Ireland "The Worst Housing Crisis in Europe" and the Prevention of Terrorism Act.
It concludes the main article with the slogan...
"For a Socialist Ireland linked to a Socialist Britain!"
More from Labour Party Young Socialists
Labour Party Young Socialists in the archive
---