Sexual and Reproductive Health Policy Document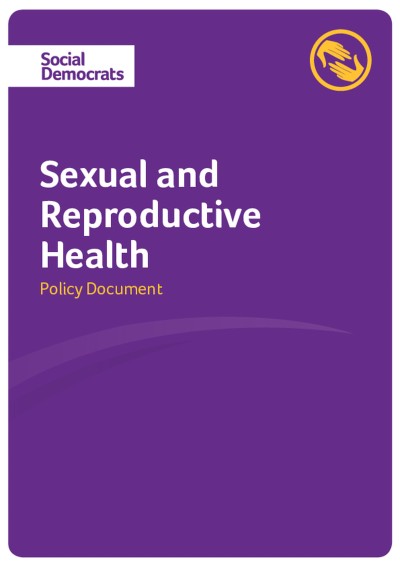 Please note: The Irish Left Archive is provided as a non-commercial historical resource, open to all, and has reproduced this document as an accessible digital reference. Copyright remains with its original authors. If used on other sites, we would appreciate a link back and reference to the Irish Left Archive, in addition to the original creators. For re-publication, commercial, or other uses, please contact the original owners. If documents provided to the Irish Left Archive have been created for or added to other online archives, please inform us so sources can be credited.
Commentary From The Cedar Lounge Revolution
17th August 2020
Many thanks to the person who forwarded this to the Archive.
This policy document from the Social Democrats is the first example from the party to be added to the archive. Formed in 2015 by Independent TDs Catherine Murphy and Stephen Donnelly (who later left to join Fianna Fáil), and former Labour TD Roisín Shortall, the Social Democrats since built to hold six Dáil seats, and 19 local council seats.
This Sexual and Reproductive Health policy document dates from just before the repeal of the 8th amendment in 2018. The document opens:
The World Health Organisation (WHO) defines health as a state of complete physical, mental and social well-being. The WHO recognises that the concept of health refers to far more than just the absence of disease or infirmity. It includes reproductive health, or sexual health, and addresses the reproductive processes, functions and system at all stages of life. The definition recognises that reproductive health refers to one's ability to conduct a responsible, satisfying and safe sex life. Inherent in that are the rights of people to choose if and when they reproduce. In order to vindicate those health rights, it is incumbent on a society to provide information on and access to safe effective, affordable and acceptable methods of fertility regulation and to appropriate healthcare services that will enable people to go safely through pregnancy and childbirth maximising the likelihood of a healthy birth.
Unsurprisingly the party present a clear position in favour of repeal of the 8th amendment, and provision of abortion services:
The Social Democrats strongly support the holding of a referendum to repeal the 8th Amendment to the Constitution and will campaign strongly in favour of a repeal vote.

[…]

We will advocate for legislation which allows termination on request up to 12 weeks gestation, which would be provided within the public healthcare system. After this 12 week period, we believe legislation should allow terminations on the advice of medical professionals where the mental and/or physical health of a woman is at risk or where there is a fatal foetal abnormality.
It also positions abortion within the wider context of reproductive health and choice, calling for better healthcare provision for infertility and maternity care, and more accessible contraception ("The Social Democrats believe that contraception should be: Affordable; VAT exempt; Readily available").
It further calls for a more complete sexuality education programme:
The Social Democrats advocate the drawing up of a holistic comprehensive sexuality education programme that is age-appropriate and that integrates key components such as:

Body positivity
Gender identity and gender expression
Relationships
Sexual orientation
Fertility
Consent awareness and sexual rights
Sexual and reproductive health
Sexual pleasure
STI Education and prevention
Safety on social and digital media in the context of sexuality
---