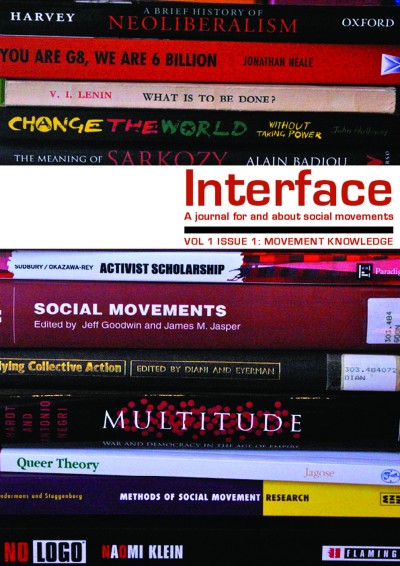 Please note:  The Irish Left Archive is provided as a non-commercial historical resource, open to all, and has reproduced this document as an accessible digital reference. Copyright remains with its original authors. If used on other sites, we would appreciate a link back and reference to The Irish Left Archive, in addition to the original creators. For re-publication, commercial, or other uses, please contact the original owners. If documents provided to The Irish Left Archive have been created for or added to other online archives, please inform us so sources can be credited.
Commentary From The Cedar Lounge Revolution
10th August 2020
Many thanks to the person who forwarded this to the Archive.
In tandem with the release of the Irish Left Archive podcasts this week, the Archive is adding an online journal for the first time. This being Interface: A journal for and about social movements .
As noted in the 'About Interface' on the website:
Interface: a journal for and about social movements is an open-access, peer-reviewed online journal bringing together activists from different movements and different countries, researchers working with movements, and engaged academics from different disciplines. The purpose is to contribute to the production of knowledge that can help us gain insights across movements and issues, across continents and cultures, and across political and disciplinary traditions: learning from each other's struggles. Each issue is read by perhaps 20,000 movement activists and researchers around the world (as of 2018).

Interface is open-access (free), globally organised in different regional collectives and multi-lingual. We aim to develop analysis and knowledge that allow lessons to be learned from specific movement processes and experiences and translated into a form useful for other movements – hence our name. In doing so, our goal is to include material that can be used in a range of ways by movements – in terms of its content, its language, its purpose and its form. As a "practitioner journal", the peer-reviewed elements of the journal have one activist and one academic reviewer each. Other pieces are edited so as to speak to as wide a range of movement participants and researchers as possible.
And:
Interface is basically an extended dialogue between people producing knowledge in, for or about social movements, whether in movement or academic settings, or both. We are a participatory journal, so always looking for new participants – movement activists and researchers as well as sympathisers, with any level of skill and any language!
There is an Irish connection:
The Interface website is hosted by the Department of Sociology, National University of Ireland Maynooth.
And one of the editors from the start has been Laurence Cox who will be familiar from other documents in the Left Archive (and is the first guest the podcast talks with).
Issue 1 of Interface is a striking publication, with 232 pages. There's a wide range of articles including Action research: mapping the nexus of research and political action by Mayo Fuster Morell, A river of life: learning and environmental social movements by Budd L Hall, Extensão universitária: compromisso social, resistência e produção de conhecimentos (Continuing education: social compromise, resistance and the production of knowledge) by Sandra Maria Gadelha de Carvalho, José Ernandi Mendes, Redes para a (re)territorialização de espaços de conflito: os casos de MST e MTST no Brasil (Networks for the reterritorialisation of spaces of conflict: the cases of the Brazilian MST and MTST) by Ilse Scherer-Warren and Movimentos sociais existem? (Do social movements exist?) by Antonio Pedro Dores.
There are action/teaching/research notes, reviews and General Material.
But the editorial by Cristina Flesher Fominaya and Laurence Cox in essence embodies a continuing theme that runs through all editions of Interface. Entitled 'Movement knowledge. What do we know, how do we create knowledge and what do we do with it?' it asks:
Movements produce knowledge about the social world. More specifically, they produce knowledge from below, information about society which is inconvenient to and resisted by those above: the wealthy, the mighty and the learned (or, as we might say, states, corporations and disciplines). A crucial aspect of movement practice is making known that which others would prefer to keep from public view, be that practices of torture and extra-judicial executions, the effects of individual pollutants and the costs of global warming, levels of rape and sexual abuse, the facts of poverty and exploitation, caste oppression and racism – the list is long. On a larger scale, movements highlight new ways of seeing the world: in terms of class or patriarchy, of colonisation or neo-liberalism, of ecology and human rights.
We hope to add others, but the current edition is highly recommended as it engages with "Organising amidst COVID-19: sharing stories of struggles" .
---