Ireland: 32 Counties in Struggle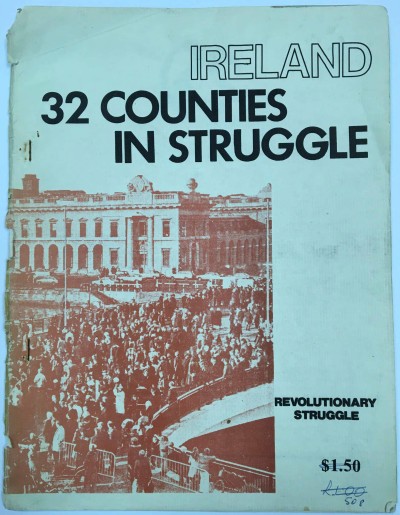 Please note:  The Irish Left Archive is provided as a non-commercial historical resource, open to all, and has reproduced this document as an accessible digital reference. Copyright remains with its original authors. If used on other sites, we would appreciate a link back and reference to The Irish Left Archive, in addition to the original creators. For re-publication, commercial, or other uses, please contact the original owners. If documents provided to The Irish Left Archive have been created for or added to other online archives, please inform us so sources can be credited.
Commentary From The Cedar Lounge Revolution
3rd August 2020
Many thanks to the person who forwarded this to the Archive.
This document, issued by Revolutionary Struggle is an interesting addition to the Archive. 41 pages long it examines across five sections the history and then contemporary situation in Ireland. The introduction notes that it was prepared following a visit to the US 'organised by our comrades of the Sojourner Truth Organisation .
This is primarily a document of analysis – thus it demands study. It's not a summary of capitalist horrors … written to arouse sympathy. Neither is it a punchy exhortation to rebellion in arms. We have plenty of both in Ireland but we have no freedom, no equality, no self-determination, no independence. In fact, we have very little. That's why we believe analysis and study are important for our people and our friends.

Finally, it is simultaneously a balance sheet and a future projection. A sediment of our last 5 years of practice to be used as a catalyst for the next phase. 5 years? Nothing really but still a lot. You can judge that better after reading this document.
There's a lot of content in the document, and a number of appendices. Appendix II offers a single line sentence categorising Irish political parties:
Provisional Sinn Féin: Reformist-Republican Party -the political expression of Provisional IRA Army Council.

Workers Party: Revisionist-Republican Party.

Labour Party: IInd. International Social-Democratic Party, close to West German and Israeli Labour Parties.
Interestingly it defines both the SDLP and Alliance as Social Democrat.
More from Revolutionary Struggle
Revolutionary Struggle in the archive
---