Ireland from Below, January 2006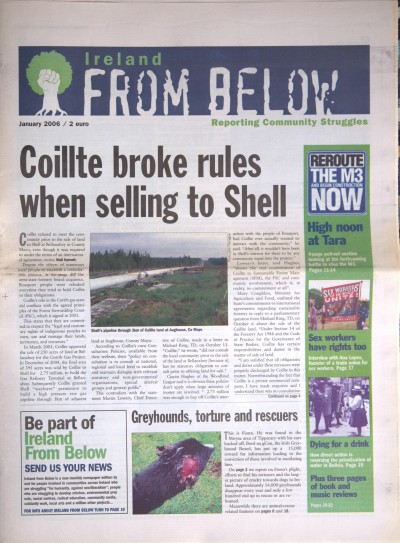 Date:
2006
Publication:

Ireland from Below

Issue:
January 2006

Robert Allen

,

Aynia Brennan

,

Mick Burke

,

Laurence Cox

,

Éanna Dowling

,

Daniel Finn

,

Mary Fox

,

Niall Harnett

,

Bob Kavanagh

,

Niav Keating

,

Chris Lawlor

,

Graciela Monteagudo

View:
View Document
Discuss:
Comments on this document
Subjects:
 
Please note:  The Irish Left Archive is provided as a non-commercial historical resource, open to all, and has reproduced this document as an accessible digital reference. Copyright remains with its original authors. If used on other sites, we would appreciate a link back and reference to The Irish Left Archive, in addition to the original creators. For re-publication, commercial, or other uses, please contact the original owners. If documents provided to The Irish Left Archive have been created for or added to other online archives, please inform us so sources can be credited.
Commentary From The Cedar Lounge Revolution
23rd March 2020
Many thanks to Laurence Cox who forwarded this to the Archive.
This is a very useful addition to the Archive, Ireland From Below, published in January 2006 and intended as a piece on the front page notes to be…
…a new monthly newspaper written by and for people involved in communities across Ireland who are struggling 'for humanity, against neoliberalism', people who are struggling to develop creches, environmental projects, social centres, radical education, community media, solidarity work, local arts and a million other projects.
Another piece notes that:
Ireland from below isn't affiliated to any political party, faction or group and we don't receive funding from any organisation or agency. While we do accept ethical and informative advertising to cover our costs, we don't endorse any commercial activity or enterprise.

Ireland from Below is put together by a large collective of volunteers writing articles, editing, doing design and layout, getting in ads, helping with distribution and doing the website.
In total it is a very well produced 24 page magazine which covers a very broad range of issues, from Coillte and Shell in Mayo, the right to choose, animal rights, sex workers rights, the Tara controversy, and many more.
---