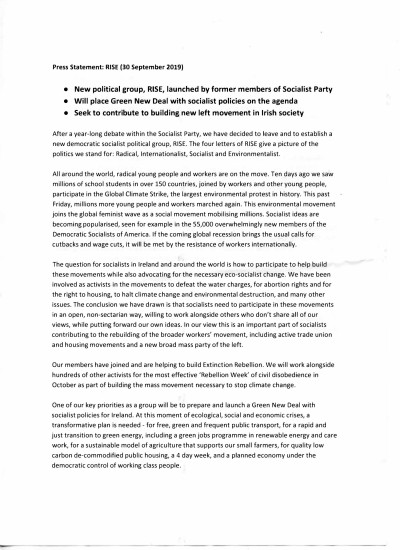 Please note:  The Irish Left Archive is provided as a non-commercial historical resource, open to all, and has reproduced this document as an accessible digital reference. Copyright remains with its original authors. If used on other sites, we would appreciate a link back and reference to The Irish Left Archive, in addition to the original creators. For re-publication, commercial, or other uses, please contact the original owners. If documents provided to The Irish Left Archive have been created for or added to other online archives, please inform us so sources can be credited.
Commentary From The Cedar Lounge Revolution
18th November 2019
Many thanks to Alan Kinsella of Irish Election Literature  for forwarding this to the Archive, the first document in the Archive from RISE, the new formation established by a group around Paul Murphy TD, formerly of the Socialist Party. The document is self-explanatory, distributed at the press conference announcing their formation, where Alan was able to acquire it, and outlining the reasons for their move from that party and their goals and priorities.
After a year-long debate within the Socialist Party, we have decided to leave and to establish a new democratic socialist political group, RISE. The four letters of RISE give a picture of the politics we stand for: Radical, Internationalist, Socialist and Environmentalist.
It notes:
Our members have joined and are helping to build Extinction Rebellion. We will work alongside hundreds of other activists for the most effective 'Rebellion Week' of civil disobedience in October as part of building the mass movement necessary to stop climate change.
And:
One of our key priorities as a group will be to prepare and launch a Green New Deal with socialist policies for Ireland. At this moment of ecological, social and economic crises, a transformative plan is needed – for free, green and frequent public transport, for a rapid and just transition to green energy, including a green jobs programme in renewable energy and care work, for a sustainable model of agriculture that supports our small farmers, for quality low carbon de-commodified public housing, a 4 day week, and a planned economy under the democratic control of working class people.
It also offers this for the future:
We will be building RISE as a radical socialist organisation and producing a regular political magazine and website with analysis and commentary (www.letusrise.ie). We also want to contribute to the building of a broader mass party of the left, with a vibrant democratic culture of debate and discussion. This is desperately needed to challenge and end neo-liberal and capitalist domination, which, with its drive to privatise and cut back, has prioritised the needs of big business and the market over our lives and our future.
---