The Young Socialists 1970: Programme and Perspectives
Draft Resolution for the 10th Annual Conference to be held on 11/12 April, 1970 at the Spa, Scarborough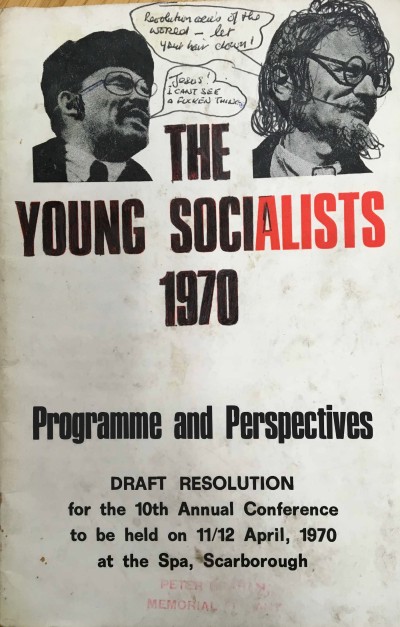 Please note:  The Irish Left Archive is provided as a non-commercial historical resource, open to all, and has reproduced this document as an accessible digital reference. Copyright remains with its original authors. If used on other sites, we would appreciate a link back and reference to The Irish Left Archive, in addition to the original creators. For re-publication, commercial, or other uses, please contact the original owners. If documents provided to The Irish Left Archive have been created for or added to other online archives, please inform us so sources can be credited.
Commentary From The Cedar Lounge Revolution
24th July 2019
Many thanks to the person who forwarded this to the Archive.
This document is of interest for many reasons, not least its provenance, and also for the mention of Northern Ireland. As noted by Charlie in comments this was the WRP linked Young Socialists. All information gratefully accepted.
And the introduction asserts that:
The Young Socialists fight on all questions affecting youth against the capitalist system which deprives them of security, of education, of a future.
It notes that:
Northern Ireland has brought out more clearly than ever the nature of the struggle against Toryism and the role fo the Wilson and the Labour government. Thousands of young workers entered a struggle for important reforms, the so-called 'civil rights'. But the Unionist (Tory) government of NI replied with brutal repressions.
And:
Because the struggle for 'reforms' had been carried out with the perspective of gradually changing capitalism in NI the young workers were led into a trap.
There is more offering an interesting insight into the analysis of the Young Socialists during this period.
---