Hunger Strike Bulletin, No. 1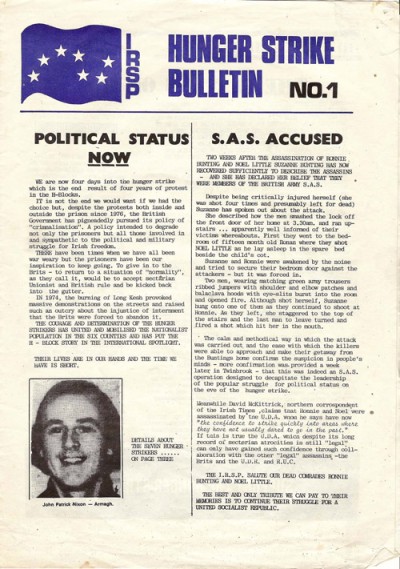 Please note:  The Irish Left Archive is provided as a non-commercial historical resource, open to all, and has reproduced this document as an accessible digital reference. Copyright remains with its original authors. If used on other sites, we would appreciate a link back and reference to The Irish Left Archive, in addition to the original creators. For re-publication, commercial, or other uses, please contact the original owners. If documents provided to The Irish Left Archive have been created for or added to other online archives, please inform us so sources can be credited.
Commentary From The Cedar Lounge Revolution
29th September 2008
A document from the Irish Republican Socialist Party which I won't say too much about because I hope to have a bit more information from the person who donated it.
Suffice it to say that this was issued by the IRSP in 1980 shortly after the assassination of Ronnie Bunting by the UDA. Bunting was in some respects an intriguing figure, son of Ronald Bunting, follower of Paisley, he was a former member of the OIRA and later INLA member.
As significant is the concentration on the first wave of hunger strikes that year, where one member of the INLA, John Nixon participated. He is, given first place in this document although it gives equal space to the PIRA members on hunger strike.
In some respects there is a remarkable lack of ideology for a document - even in the context of its subject matter - issued by a left wing party and the linkage to the 19th century hunger strikes would appear to link into a different discourse entirely.
More from Hunger Strike Bulletin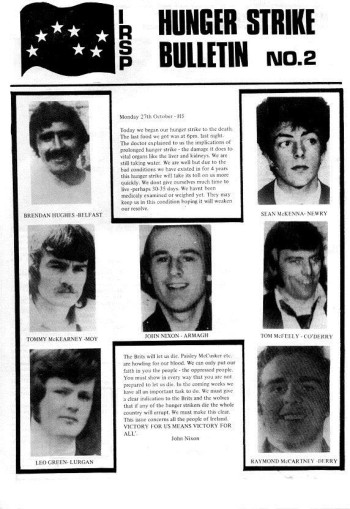 Hunger Strike Bulletin in the archive
---