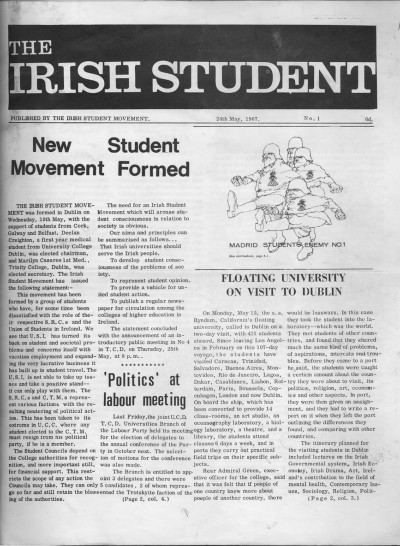 Please note:  The Irish Left Archive is provided as a non-commercial historical resource, open to all, and has reproduced this document as an accessible digital reference. Copyright remains with its original authors. If used on other sites, we would appreciate a link back and reference to The Irish Left Archive, in addition to the original creators. For re-publication, commercial, or other uses, please contact the original owners. If documents provided to The Irish Left Archive have been created for or added to other online archives, please inform us so sources can be credited.
Commentary From The Cedar Lounge Revolution
26th May 2008
"Irish Students! We have waited long enough! The powers that be would have us irresponsible, indifferent and apathetic. We refute this charge and call upon all students to prove it false by taking a full part in the events which shape our destiny."
And with that ringing declaration here's a piece from the year before 1968, and the Irish Student Movement. It's a bit of an oddity because I know nothing about the ISM at all. It makes a number of attacks on "Trotskyite factions", and I was told by the person who donated it that it was Maoist. This would make sense, not least in terms of the references to 'the imperialist powers, including the Soviet Union…'.
As regards the content, it is interesting to see how the events of the subsequent year were part of a dynamic that had already, and quite self-consciously emerged, for more consider the last page. The article on 'Jargon' by a Labour Party member makes some provocative statements, not the least of which is that 'totalitarianism need not necessarily exist in a one-party state provided that fundamental human rights are respected'.
There is a reprint of "The Murder Machine" by Pearse, an article lauding the PAC in South Africa ("… It is futile to think that the U.K., U.S. Or any West European country will apply sanctions…"), numerous digs at Kadar Asmal and the article on Q.U.B. Is curiously indifferent to partition as against the requirement for foreign students to pay 'their own bloody way'.
The focus is very much on student politics, perhaps inevitably, but the language (see S.R.C. Sell-out, page 4) is that of the left. Anyhow, I'd be very grateful if anyone knows who or what it represents. Any additional information will be posted up with this post.
---