Document on Irish Liberation Submitted to World Congress of Peace Forces, Moscow 1973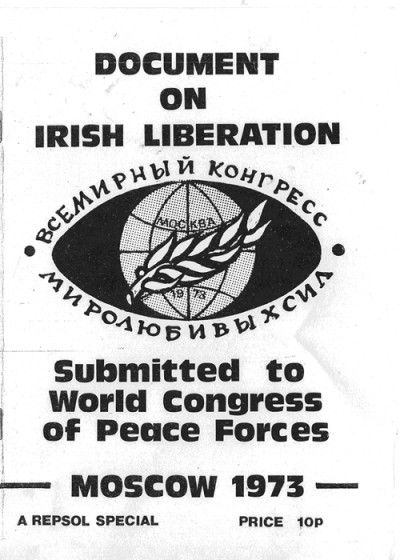 Please note:  The Irish Left Archive is provided as a non-commercial historical resource, open to all, and has reproduced this document as an accessible digital reference. Copyright remains with its original authors. If used on other sites, we would appreciate a link back and reference to The Irish Left Archive, in addition to the original creators. For re-publication, commercial, or other uses, please contact the original owners. If documents provided to The Irish Left Archive have been created for or added to other online archives, please inform us so sources can be credited.
Commentary From The Cedar Lounge Revolution
12th May 2008
So, here from 1973 is a document published by REPSOL for Official Sinn Féin as a submission to the "World Cogress of Peace Forces" in Moscow. Much of it as would be expected. Consider the references to "Ireland [joining] the so-called European Economic Community thus adding to the domination and exploitation of our people by this new modern imperialist bloc."
The language as regards armed struggle is ambiguous. Note that it argues that "…we have realised that armed struggle on its own, or as an end in itself, is doomed to failure. Armed struggle must always be related to the needs of the people."
Yet it continues… "The most consistent element in the Irish Republican tradition is armed resistance to British imperialism. It was only out of this armed resistance that our revolutionary vision of the Ireland of tomorrow came"
And as a nod towards Moscow's sensitivities it argues that "It is essential that all who are involved in the National Struggle for Liberation realise that the national struggle is a people's struggle - a class struggle". The language as regards Britain is much stronger than might be expected, to the point that we read "There is only one issue on which practically everyone in Ireland is agreed. We do not want to be ruled by Britain. This fact must therefore be made clear and emphatic. All should unite on the demand "Britain get out".
Indeed Tomas Mac Giolla (sans fada's) is quoted as urging delegates to the Congress to 'support the short and long term Republican demands which called for the withdrawal of British Troops and an end to all repression in Ireland'.
Which is interesting, but no more so than the following: "Clearly as with the British imposed arrangement of 1920, any solution which advocates the continuation of a Six or Nine County Ulster state, whether it has constitutional links with Britain, or not, must be rejected.". A dig at PSF who had recently issued Éire Nua? More than likely. But interesting how in order to fend off the Provisionals it was necessary to ramp up the anti-British rhetoric.
It's a brief document but a telling insight into the direction of a much harder edged 'Republican' stance evident in Official Sinn Féin at this point in time.
More from Repsol Pamphlets
Repsol Pamphlets in the archive
---